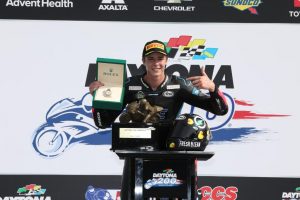 Former British Motostar king Brandon Paasch, at only 19 years old, used an old, veteran move common to Daytona International Speedway winners to capture Saturday's 79th 200 in breathtaking fashion.
After running second for most of the last portion of the race, Paasch, utilizing the draft, reeled in leader Sean Dylan Kelly and calculated a perfect slingshot move at the entrance of the tri-oval as the duo came to the chequered flag, winning by just .031 of a second.
Paasch took home the traditional Rolex Cosmograph Daytona watch and the title at America's most historic motorcycle road race during the 80th Annual Bike Week.
"I have been dreaming about that pass since 2019," said Paasch, who finished fifth that year. "For me to see it coming to fruition, it is kinda crazy. Somehow we pulled it off. I just kept digging and my hope was to run him down. It was kinda surreal for me at the end to cross the line first. It just doesn't feel real right now. I am at a loss for words."
Battling an ankle injury and off his bike for at least two weeks, Paasch edged Dylan Kelly and Tyler O'Hara in the 54-rider field that put on a show with plenty of side-by-side racing and at times riders running three- and four-wide. Paasch posted the best lap (1'49.752) and best speed (115.132).
Fourth went to Michael Barnes while four-time champion Danny Eslick finished fifth as he attempted to become the third five-time champion.
Michael Dunlop went from 21st on the grid to 11th on his borrowed and troublesome Kawasaki.
Posted on Monday, March 15th, 2021 in News