"To be honest this day has not been that bad. This morning we had to wait until the track was dry and when we had a dry line, I felt fast on the bike and had a good feeling with the BMW M 1000 RR. In FP2, I started really well but struggled with stopping the bike as it felt a bit nervous, so we tried to solve that. Towards the end of the session with a fresh tyre I made a mistake when on a good lap, and then unfortunately we had a mechanical issue right at the end of the session. But overall, I am feeling good with the bike. We haven't changed too many things, so the base of the bike feels good. We just need to make the bike a little more stable on braking."
Saturday
WorldSBK at Magny-Cours: Front row of the grid for Tom Sykes; top-five in race one for Michael van der Mark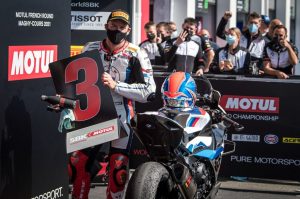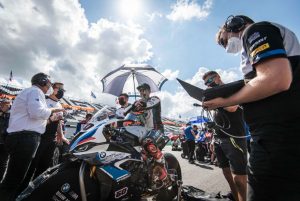 The FIM Superbike World Championship (WorldSBK) is at Magny-Cours (FRA) this weekend for round eight of the 2021 season. In Superpole on Saturday morning, Tom Sykes (GBR) from the BMW Motorrad WorldSBK Team finished third to secure another place on the front row of the grid on his BMW M 1000 RR. In the afternoon's opening race, his team-mate Michael van der Mark (NED) finished fifth, while Sykes crossed the finish line in ninth place. Jonas Folger (GER) from the Bonovo MGM Racing Team came home 16th.
Sykes was once again one of the top riders in Superpole qualifying. The Brit briefly topped the timings, and eventually secured third place and a spot on the front row of the grid with a time of 1:35.919 minutes. Van der Mark, who was unable to take to the track in the morning's third free practice session due to a technical issue qualified ninth. Folger was 19th in qualifying.
The air temperature rose to 26 degrees Celsius for the start of the race in the afternoon, resulting in a track temperature of 40 degrees Celsius. Starting third, Sykes dropped several positions at the start, while van der Mark climbed into sixth place before falling back to ninth again. On lap three, Sykes went very wide in turn five and slotted back into the field in twelfth place. Meanwhile, van der Mark had improved to seventh and soon took sixth place. The Dutchman remained in that position until lap 17 of 21, when Alex Lowes (GBR / Kawasaki) crashed in front of him, handing van der Mark fifth place – a position he retained through to the finish. Sykes was involved in a number of battles throughout the whole race in a fiercely-competitive group of riders. After 21 laps of racing, he crossed the finish line ninth. Folger initially dropped back at the start, but made some progress through the field in the second half of the race to finish 16th.
Shaun Muir
"Tom did a great job in Superpole, and we know he can do that. His lap wasn't a clean lap either so he was a bit disappointed not to get pole, but happy with a front row start. Tom's race was bit disappointing for him; he had the pace to be with Michael, but he was getting beaten up and pushed about a bit which disrupted his rhythm, so he is not happy with ninth position. Mickey had a really difficult day. We had a technical issue this morning and lost a lot of time which was valuable for us. So, to qualify in P9 was not so bad for him considering he's not mastered qualifying on the BMW M 1000 RR yet. But typical Michael van der Mark, he grits his teeth, he gets his head down and battles his way and gets stronger and stronger as the race goes on which will do his confidence the world of good. So, we can put today behind us and focus on tomorrow and hopefully have a clean warm up and go into the Superpole race and race two strong."
Tom Sykes
"It was another good Superpole but I am disappointed with the race today, and disappointed at not being able to race with the other bikes. Riding in the group, we struggled with the engine temperature and braking performance all through the race unfortunately. We were quicker in the turns but couldn't get close on the straights to make a pass on the brakes. So, it was a frustrating race but we will have to have another go tomorrow."
Michael Van Der Mark
"I think if you look at the result it isn't that bad, but it's a shame I lost so much time in this morning's session. In the races, I had a good feeling with the bike and we wanted to try something different in FP3, but we couldn't do so. So now in the race I am struggling a little bit and unsure whether yesterday's setting was better or not. But anyway, I am happy with the points, and I am looking forward to tomorrow's two races."
Sunday
P6 and P8: Michael van der Mark is the best-placed BMW rider on WorldSBK Sunday at Magny-Cours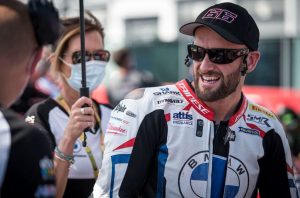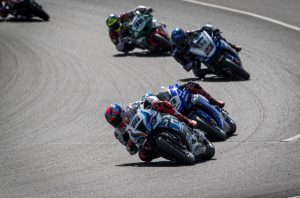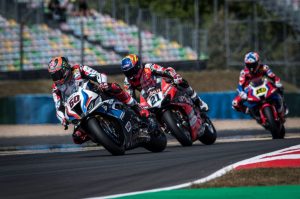 The eighth race weekend of the 2021 FIM Superbike World Championship (WorldSBK) at Magny-Cours (FRA) drew to a close on Sunday with the Superpole race and race two. Michael van der Mark (NED) from the BMW Motorrad WorldSBK Team finished sixth and eighth on his BMW M 1000 RR. His team-mate Tom Sykes (GBR) was twelfth in the Superpole race and went on to finish tenth in race two.
Sunday at Magny-Cours began with the warm-up in the morning, in which Sykes and van der Mark were fourth and ninth. That was followed by the Superpole race. After a strong qualifying, Sykes again started from third on the grid, with van der Mark ninth.
Sykes initially established his position in the leading group at the start of the Superpole race, however fell back to eleventh place on lap two. Van der Mark gradually worked his way through the field and was running fifth at the halfway point, before dropping a position. The Dutchman ended the ten-lap sprint in sixth place, which put him on the second row of the grid for race two on Sunday afternoon. Sykes came home twelfth, which earned him tenth place on the grid for the second race.
Van der Mark made a strong start to race two and found himself in fourth place for a brief spell but dropped back to sixth place on lap six when he was touched by a rival whilst battling for fourth place, the Dutchman just able to avoid crashing. He showed great fighting spirit to battle back towards the front of the field, but was no longer able to attack in the second half of the race. Van der Mark dropped back to eighth place, a position he held on to through to the finish. Sykes endured a difficult start, after which he was lagging in 18th place. However, he fought his way back to 14th on the opening lap. By the end of lap seven, he was running in tenth place – a position he maintained through to the end of the 21-lap race.
Shaun Muir
"Tom's had a really tough day to be honest. He's not got into his rhythm and got beat up a bit in both races and lost places. We know the top ten are so close together and I don't think Tom has had a fair crack at it today so he will be disappointed with his performance. Mickey had a good Superpole race. I think he did really good to come through there, he had a good battle so to start the feature race from sixth position was a really good step. It was a strange race really. He got away really well and was in a tough battle with the front guys. Then Andrea Locatelli made a hard but fair move on Michael but it looks like the brake guard did its job and saved him from what could have been a major accident because the gyroscopic effect of the bike pulled Andrea back into the side of Mickey and he had nowhere to go so it was very lucky. But he fought back and used a lot of tyre which towards the end left him with no grip so eighth position is all we could do today. A good race overall from Mickey and I think we can come away from Magny-Cours with some positives. We have tested at Catalunya, so we are looking forward to going there next."
Tom Sykes
"It was difficult today. Put me on a clear track and I can go front row, put me on a clear track again in warm up and we can be consistently in the top four. We just cannot ride with the others. Unfortunately, when I'm with the other riders it becomes a lot more stop and start and we can't follow them when it comes to opening the gas. As soon as I got clear track my lap times came down and were not too far from the fifth position in terms of lap time, but we can't bridge the gap at this level. There's a lot of information to be looked at, I will see with the team where we can improve."
Michael Van Der Mark
"This morning's Superpole race was alright. I had good pace and had a good feeling with the bike. I was just missing one or two tenths to stay with Scott Redding and fight for fourth place. I was confident going into the main race and had a strong start but then I started to struggle after a few laps. I had some moments with a few riders and lost a lot of time there but at the moment, the package is just not good enough to fight every corner with the other guys. In some corners we are losing too much time."