BMW Motorrad WorldSBK Team within top 6 at the "Cathedral of Speed" on Friday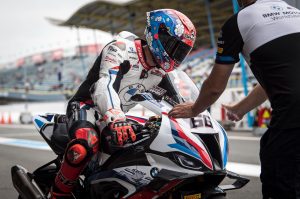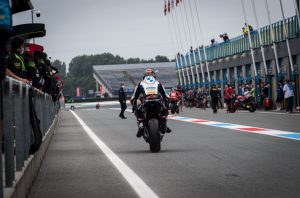 The BMW Motorrad WorldSBK Team today concluded the opening day of Free Practice at the historic TT Assen Circuit inside the top 6 places. Following the success of the previous round at Donington Park, the duo of Tom Sykes and local hero Michael van der Mark were eager to replicate this going into FP1 this morning. Tom Sykes was fast out the box and quickly adapted his BMW M 1000 RR to the 4.542m circuit, lapping consistently in the 1'35.00's. His best lap came in at 1'35.117, placing him in P6. Michael van der Mark struggled to find a good setting during FP1 as he found himself in P11, just out the top 10 with a 1'35.320.
The pace intensified going into the final free practice session of the day with the top 10 places covered by only half a second. Tom Sykes was the fastest of the BMW's overall as he improved on his time set this morning, dipping into the sub 1'35.000's with a 1'34.753 to put him in P5 overall. Michael equally improved on his time from this morning as he made some solid steps forward with him BWW M1000 RR. His overall position – P11.
"A solid day for both Tom and Michael on the BMW M 1000RR's. The pace is really fast and the times are close throughout, it's the closest it has been so far this season and we are happy with the positions we are in. Tom showed good pace, as has Michael with him settling into to some new settings so overall happy with day 1. We still have work to do going into tomorrow but as you can see from the times from 1st to 10th it is +0.583 which means that qualifying tomorrow will be so vitally important. It will dictate and shape the outcome of the race and starting positions which hopefully are within the first two rows. If we can get into those positions, it will give us a chance of some really strong results."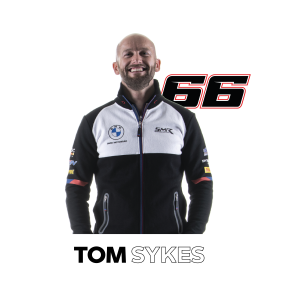 "It's been a good day one here in Assen. To start off the guys at the Assen circuit have done a good job with the resurfacing on the track, its smooth and such a pleasure to ride. The BMW M 1000RR is working well from the previous data at Donington. Myself and my crew chief have put a plan in place and have had a smooth Friday. We have been able explore the base set up this morning in FP1 and going into FP2 we were able to expand into different tyre options that Pirelli have brought here, so now I feel we are quite prepared on this. One thing we didn't do was fine tune that base set up on the bike which is something we will focus on tomorrow. So overall, today was a good strong performance from the whole of the BMW Motorrad WorldSBK Team and I am looking forward to tomorrow. Hopefully the weather stays dry and consistent."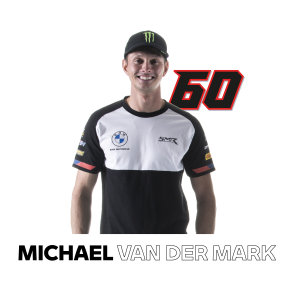 "It was quite a positive Friday if you look at our lap times and pace. We made a big step from this morning's FP1 to FP2 as this morning I was not happy with the bike. Unfortunately, the position is not where we want to be, but with the progress we made from this morning is a good step. There are a couple of tenths missing to the front guys which is really close, but if we make that time up we will be in and around where we are wanting to be. I am happy with how our Friday has gone and looking forward now to Saturday's Superpole and Race 1."
A day of mixed fortune for the BMW Motorrad WorldSBK Team in Assen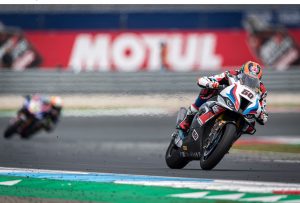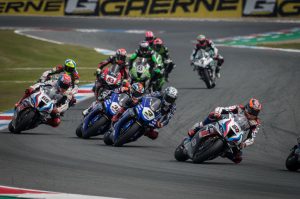 The BMW Motorrad WorldSBK Team did not have the best start to this mornings FP3 session as Michael van der Mark missed the full session due to a mechanical issue, putting him on the backfoot for Superpole.
As Superpole approached the bad fortune continued, however on the other side of the garage with Tom Sykes. On his opening lap he discovered a small technical issue which forced him to miss majority of the session. Despite his best efforts in returning the bike to the box he missed out on setting a fast qualifying lap by thousandths of a second with a lap that would have placed him on the front row in P2. Unfortunately, Tom started from the back of the grid as a result. Teammate Michael struggled to match the pace of the front runners as he put himself in P9 for the start of Race 1 after trying to set another fast lap on an expired "Q-tyre"
In Race 1, Michael initially got a difficult start on his BMW M 1000RR wheelieing off the line but throughout the race was running a fast pace and lap by lap was climbing the leader board with 3rd position in his sights. Unfortunately, with 2 laps from the end the red flag was brought out prematurely ending the race.
Sykes had his work cut out starting from the back of the grid however had the speed to battle his way through the pack. With the help from some crashes Tom worked his way into P7 collecting a valuable 9 points for his efforts.
Shaun Muir – Team Principal
" Both riders really showed their fighting spirit. After having missed this morning's FP3, Michael struggled a bit in Superpole to make best use of his tyre so he did a really good job to put it on the third row of the grid. Tom sadly had a technical issue, and to miss the chequered flag by so narrowly and his lap which would have put him second on the grid not counting really was cruel luck for him. So he had to start from the back. But both riders did a fantastic job in the race. Michael lost a lot of time coming together with Lucas Mahias in a typical first corner melee but fought back very well. I think I it wasn't for that he could have been in the battle for the podium positions because finishing just a bit more of a second behind when the red flag came out showed how much progress he had made. And equally Tom came through very well from the grid. We will take that result and build on that. Tomorrow is another day and overall it has been a good job in the circumstances. I am very proud of the guys and all the hard work they have done on and off the track. We are looking forward to tomorrow."
Tom Sykes
"It has been a little bit of a character building day. We have been unlucky in Superpole and that set the scene for the opening race today. We had a slight technical issue; fair play to the marshals who brought the bike back. The boys did an unbelievable job to get me back out there and we managed to get a lap in which was good enough for second position on the grid but unfortunately it wasn't to be. Then at the start of the race, we made an acceptable first lap and away we went. Unfortunately we had some limitations, I feel we had an issue which made it difficult for me to consistently make the apex. We will check that and again, we understand the bike a little bit more. For tomorrow we will make some changes. Overall, it was again a strong showing from BMW from a not so good start position. Michael rode a very strong race and it is just proof that we have been working hard."
Michael Van Der Mark
"It was a tough Saturday, to be honest. This morning, I did not do any laps as we had a mechanical problem and so we went straight into Superpole. We thought we can do two laps with the qualifying tyre but I could just do one so it was quite tough. P9 on the grid wasn't great, and also my start was not the best. I had some wheelieing and lost some positions there, then I got a bit of wrangling with another rider going into turn one and the first lap wasn't really clean, but then straight away I had a good pace and I managed to pass some riders one by one. At the end I had a similar pace as the guys in front of me who were fighting for the podium but I just could not get any closer. We need to find a little bit extra grip to have the pace so I can battle with them."
WorldSBK Sunday at Assen: both BMW Motorrad WorldSBK Team riders show fighting spirit and strong chasing performances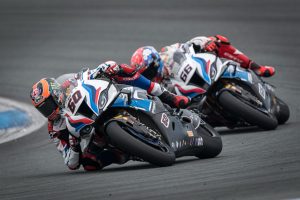 The two riders from the BMW Motorrad WorldSBK Team showed fighting spirit to deliver convincing performances once again in Sunday's race in the FIM Superbike World Championship at Assen (NED). In the Superpole race, Tom Sykes (GBR) put on a thrilling chase to move up from 18th to seventh place. In the afternoon, Michael van der Mark (NED) overcame difficulties during race two to improve by five places and secure another top result by finishing sixth. After his crash on Saturday, the race doctors did not grant clearance for Jonas Folger (GER) from the BMW satellite team Bonovo MGM Racing to compete on Sunday.
After some heavy rainfall, there was still water on and around the circuit in the morning, causing the warm-up session to be postponed by 50 minutes. The start of the morning's Superpole race was then also pushed back by ten minutes. The track was then dry, but conditions still proved to be treacherous in places. Sykes once again gave a fantastic chase. Starting from 18th on the grid, he moved up ten positions with his BMW M 1000 RR on the first lap and secured seventh place on lap four. That was where he finished the sprint race, claiming seventh spot on the grid for the afternoon's second race. Van der Mark also made a good start from ninth only to take a fall a short time later. This put him eleventh on the grid for race two.
At the start of the second race, two riders collided at the front in turn one – while van der Mark was able to leap forward six places to move into fifth. Sykes claimed seventh position on lap one, but then fell back a little. Van der Mark also lost some time. During the second half of the race, van der Mark and Sykes were then involved in a duel lying in eighth and ninth places, all while closing in on the top six. Events took a dramatic turn coming into the final lap; van der Mark was able to overtake two rivals and secure sixth place, while Sykes took a tumble. He was able to rejoin the race and finished 15th to score a point.
Markus Schramm, Head of BMW Motorrad, was at Assen to experience the race weekend on site. "It was super to be back again," said Schramm on Sunday afternoon. "I hadn't been here for over a year and I really missed it. It was also the first time that I had seen the new BMW M 1000 RR in action in the WorldSBK. It was great to see the BMW family again and to view the progress that we have made with the M RR. That is what made it good weekend."
The BMW Motorrad WorldSBK Team can now look forward to a first in two weeks' time; Most, in the Czech Republic, will host the WorldSBK for the first time when the sixth event of the season takes place there from 6th to 8th August.
Shaun Muir – Team Principal
"After Saturday's race one where we were reasonably happy with the results overall and showed strong lap times, we were looking to carry those over into today. But it was a tough Superpole Race. For sure, Michael felt he needed to be with that front group of riders which yesterday's pace indicated he could do that. But he unfortunately crashed out which was a disappointment and set him back to 11th on the grid for race two. Tom managed to push his way through and improved on his starting position, which was perfect. Going into the race, there was a bit of a coming together at T1 which unsettled the pack, but Michael settled back into a rhythm. However, he couldn't find the grip he was looking for. Tom was waiting for his tyre to come to him but again got stuck in a battle where he was just off the leading two packs. Overall, it was a tough race. We expected a little more from the performances but all in all we are showing the improvement of the bike and that gap to the front is getting narrower at every event. This is the target with the podium in sight. We take the positives from this weekend and move to Most where we will pick up the game from there."
Tom Sykes
"We managed to start race two on the third row which was a lot better. We got a much cleaner start to the race as the guys did a bit of work to the BMW M 1000 RR. We used the harder rear tyre and just couldn't find the grip we needed at the beginning of the race but having said that, the bike stayed very constant throughout the race. Unfortunately coming into the last corner before entering the final lap, I tried to close the line and square the corner off and lost the front. It was such a slow speed crash, but I wasn't able to save it. It's such a shame, the bike today was good enough for that top-six and it would have been nice to be consistent the whole weekend. It certainly seemed we have made some good improvements including both me and Michael. A disappointing end to the weekend but we can take the positives from it, and we will focus on that and try to build on it for the next round."
Michael Van Der Mark
"This morning's crash was a stupid mistake by myself. I really wanted to go for it, and on the fastest corners of the track I tried to go even faster which was a silly mistake on my behalf. In race two, I had an okay start. I had a bit of luck at T1 starting in P11 and by the end of lap one I was in fifth but I didn't have the pace or the grip I was hoping for. I was struggling to keep the bike on track and I just didn't have any more to give so it was quite tough. But at the end of the race I found a little extra pace and managed to catch and pass Michael Ruben Rinaldi and Alex Lowes so P6 wasn't too bad in the end. But I really wanted more."