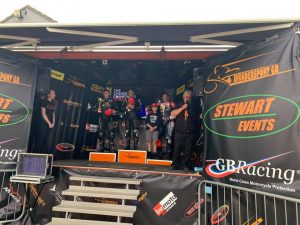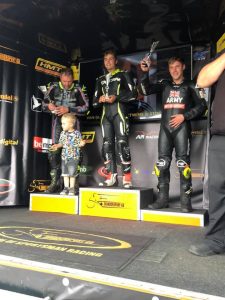 Summary
It's another win for the Army! Taking first and second position as well as good positions throughout the order has meant the Army extends its lead in the overall championship.
#29 Lt Col James Alder
A successful weekend for Lt Col 'JJ' Alder as he continues to adapt to the new bike. Donington Park has always been a favourite track for JJ with a combination of long straights and hard braking to slow speed corners, it is a circuit that suits his R1. Whilst the challenge so far this season has been to better the times set on his former bike, he achieved this in testing on the first day which set him in good stead for the weekend. His best finish in class was 5th with lap times only a few seconds off the leaders. In the Inter-Service Military Race JJ started 19th on the grid and managed to battle his way through to 12th but due to a 10 second penalty for overtaking under a yellow flag he was dropped a place to 13th. The next outing will be to Oulton Park in Sep, which is again suited to the R1, so hopefully JJ can continue the steady improvements.
#78 Maj John Miller
Donington Park is a favourite for Maj Miller, and he was looking forward to a weekend of racing. The pre-national 600 class is incredibly competitive this season so Maj Miller found himself in mid-pack for much of the weekend but there was some great racing, leaving big smiles on everyone's faces! He qualified 8th for the Military race and got a good start but overshot the last chicane on the first lap which left him with work to do. He battled hard and made his way up to 5th place, having a great battle with Sgt Leith on the last lap.
#62 Sgt Sam Cartwright
Due to work commitments Sgt Cartwright could not attended the Friday testing so the first time out on track was during qualifying where he managed to qualify 27th out of 37 riders. During the first race of the day he was getting more and more confident with the bike however, he lost the front going into Coppice, which caused some small damage to the bike. After putting the bike back together over the break and make some small adjustments to the bike ready for the second race. The next day the bike was having issues changing gear that needed to be sorted out for the Interservice race. For the Interservice race he was starting 12th out of 34 riders. He got a good start and managed to hold his position for a few laps until one of the other Army riders passed him going into Redgate, this was under a yellow flag. The other rider ended up with a 10 second penalty. This put Sgt Cartwright back to 12th when the race had finished. Overall, another good weekend and he is looking forward to Oulton Park.
#30 Sgt Dave Leith
Sgt Leith arrived at Donington Park ready for a full days testing. Throughout the day he had a few issues, however he was soon up to the pace he had last year at the track. Sgt Leith qualified in 8th position for the Inter Services Race putting him in the middle of row 3. He got a good start and was sitting in 5th however the lead riders where breaking away. With 3 laps to go Maj Miller, another Army rider had caught Sgt Leith and the two riders had a few very good laps with positions changing and avoiding back markers. Sgt Leith had a good race and finished in 6th position.
#18 Sgt Spencer Fleet
Sgt Spencer- Fleet felt very at home at Donington park after only recently attending that track few weeks before with the World Superbike paddock. Going into qualifying he felt confident to push hard straight away putting in a time to match his PB of a 1.12.8. Using GP1 race on the Saturday afternoon to try move forward, he matched his PB again but struggled to get past some slower 1000cc bikes who had the edge on the straights. GP1 Race 2 was another hard 14 lap race but managed to get with a slightly faster group and was completely over joyed with yet another new PB dropping 0.8 to 1.11.9!
Posted on Thursday, July 29th, 2021 in News