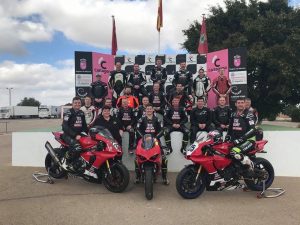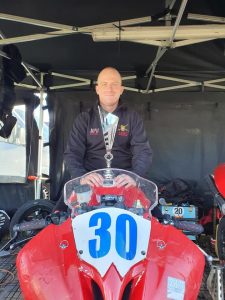 Summary
Sgt Leon Wilton is the Inter-Service Road Race Champion!
After a much-condensed championship due to COVID-19 it was all still to play for going into the final round at a cold and damp Cadwell Park. Sgt Leon Wilton having dominated the championship made sure he did what was needed to win. Unfortunately, the Team couldn't quite overhaul the RAF and it was second for the Army in the overall with the Navy in third. A huge thank you from the team to all those who have supported us this year. Roll on 2021!
#29 Maj James Alder
Maj Alder began his weekend with his typically average qualification but again saved his best performance for the races. With the uncertain weather conditions on the Saturday the first Stocktwin race saw a mixed field of wet and dry-shod bikes take to the grid with Maj Alder unfortunately withdrawing from the first race due to the rain arriving midway through the race and being on dry tyres. The final race of the Saturday was declared a wet race early and Major Alder took full advantage of this and managed to get his first podium of the year with a third-place finish. The delayed Inter-Service Race on the following day didn't quite deliver the same result but after maintaining pace with the lead pack for the first lap Maj Alder managed to finish first out of the smaller capacity bikes and sealed his overall position as fifth in the Army team for the year. He was unfortunately unable to match his podium result in the Stocktwin class from the previous day with a fourth and fifth place finish in class but managed to finish the season fifth in the overall championship despite missing the first round. This will be Major Alder's last season in the Stocktwin class as, all being well in the off season, he will move to a 1000cc class next year.
#98 Maj Chris Turner
A newcomer to Cadwell Park, the undulating mountain circuit took a bit of learning, but resulted in a fair qualifying position. A loss of gears during Friday testing meant a lack of track time and catch up being played all weekend. Race 1 started well with lap times dropping and lying in 10th place although Maj Turner unfortunately lost the front end and crashed out at the Gooseneck. Race 2 was very wet, with conditions worsening and light fading a safe 6th place in class finish was a good result. Unfortunately, a combination of rider error caused another crash in Race 3 at Hall Bends.
#96 WO2 Ian Evans
Qualifying for WO2 Evans didn't go too well as he was Black Flagged on his fourth lap due to his rear brake binding on and catching fire. After diagnosing the problem, he had to find a replacement which was a 2-hour round trip which meant he missed his first race. The second race was wet and with a disadvantage due to lack of track time and hampered by choosing the wrong visor for the conditions WO2 Evans picked his way through to finish 5th in class and pleased with the outcome. The Inter-Service race was also classed as a wet race, WO2 Evans managed to pick off a few riders before getting stuck behind a rider with an acceleration advantage that made it very difficult to make a pass in tricky track conditions. Next season will be campaigned on a different machine that should suit WO2 Evans better than the ZX10R he currently rides.
#62 Sgt Sam Cartwright
The first race of the day for Sgt Cartwright was going to be a dry one he started 29th and finished 23rd . The second race was only one between the Inter-Service race and the weather was closing in and the choice of which tyres to go out on was changing by the minute, so Sgt Cartwright decided not to go out on that race and to see what the weather was doing. Luckily, he played it right and the weather had changed for the worse. As they made their way to the grid it was getting darker and darker and wetter as well. They made it round a lap and the race was cancelled till the morning.
The next morning the race was back on, Sgt Cartwright was starting 21st out of 32 riders. The track was damp, and he had his wets on and it paid off. He pushed hard on the first lap to get in front of some of the slower bikes and made it into 11th place and that was where he finished the race.
#55 Sgt Leon Wilton
The worst and best weekend. Sgt Wilton was Feeling the nerves of leading the championship knowing he will be the target at this round. Qualifying for Sgt Wilton was not great as it was a slightly damp cold track so he had to use a slick tyre, nothing else would do. With a little hesitation on some damper colder corners Sgt Wilton qualified in 4th for the Inter-Service Race.
On a wet track starting 4th was a good position for Sgt Wilton with a good start and getting away into 3rd, due to a little scare by the bike in front Sgt Wilton had to roll off the throttle, letting two other bikes overtake either side. Putting him back to 5th. The 4 bikes in front were having good battles, something Sgt Wilton did not want to get involved in a wet track battle. He knew with the points he had and with his rivals behind him on track, he would become the Inter-service Champion. Sgt Wilton finished 5th and claimed the Inter-Service Championship 2020.
#159 LCpl Tyler Viveiros
LCpl Viveiros' first visit to Cadwell Park was certainly a learning curve. A physically demanding and notoriously technical track was amplified by the wet conditions faced throughout the weekend. With a drying line present for qualifying, Viveiros opted for a dry set up. Pushing for a hot lap, Viveiros came off the drying line to pass a slower rider – a decision which resulted with trip to the tyre wall and a dislocated shoulder. Despite this, with an incredible effort from Team Army the bike was ready to race again for the final day of the season. LCpl Viveiros achieved a 6th and 8th position, scoring some final season points. Looking ahead, Viveiros is extremely excited at the prospect of a full season racing in the team for 2021; hungry and confident for podiums next year.
#93 LCpl Liam Palmer
After a good day testing at Cadwell park in the wet LCpl Palmer felt good rolling into what was looking like a wet weekend he had learned the track and knew where he needed to improve. LCpl Palmer's qualifying didn't quite go to plan and unfortunately left him having to fight from a long way back in every race. He managed to make some good starts but not enough to catch the front runners but managed to spend the races improving his lines and track knowledge on a wet track, knowledge that will prove valuable in the future. This being LCpl Palmers first season in racing he managed to come away with 4th in the Stocktwin class championship and only 3 points from 3rd a huge achievement and with the passion to do more in the future.