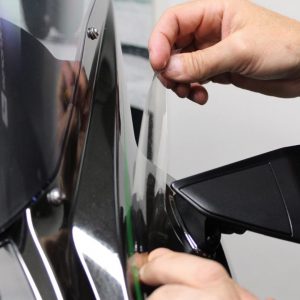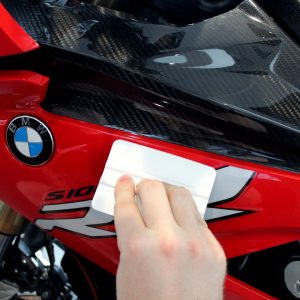 You've just picked up your new motorbike and it's straight out the showroom condition with not a mark on it. You get it home to your garage and all is well, while you look forward to taking it out properly in the morning. Morning comes and you scoff breakfast eager to get out on your new pride and joy. You're riding down a brilliant road and then there's a noise. What was that? You dismiss it and continue riding, a short while later the same noise happens again. You get home, look at your bike and there are 2 stone chips on your once pristine panels.
If before you took your bike out, you fitted an Eazi-Grip Paint Protection Kit, you will save yourself the heartbreak of damaged panels.
Here are the benefits of fitting an Eazi-Grip Motorcycle Paint Protection Kit:
Do I get everything I need to install my motorcycle Paint Protection Kit?
Yes. Our Paint Protection Kits are supplied with your bespoke cut Paint Protection Film pieces, a bottle of application solution (just add water), a squeegee, cleaning wipes and fitting instructions. Eazi-Grip Motorcycle Paint Protection Kits are easy to fit, with sectional pieces, that in conjunction with our advanced fitting solution, simply float into place. The film is extremely conformable around even tight radii and compound curves, making them easy to fit at home.
Will it protect my motorcycle's resale value?
Our Paint Protection Film is super thin, but very tough and is non-yellowing. It disperses gravel and stones and protects against scratches, road tar, bird droppings, tree debris, salt, UV rays and abrasions. It self heals too. This is shown in more detail when Bennetts tested our Paint Protection Film properties. Click here to watch the video. This means your paintwork remains untouched beneath and therefore retains your bike's resale value.
Is a motorcycle Paint Protection Kit affordable?
Wrapping a motorcycle isn't cheap. Our Paint Protection Kits provide a more affordable form of protection with prices starting from just £55 + VAT.
Do you design and manufacture the Paint Protection Kits yourself?
Our designers personally visit our local dealerships to trace any new models. All kits are scanned, designed and cut by our fully trained staff. We do not use template libraries and all our bespoke kits are trademarked registered designs.
Is it noticeable on the motorbike once installed?
As our film is so clear and thin, it provides an almost invisible finish when applied, so it not only protects the look of your bike, but it looks good on your bike too. It is available in Matte and Gloss.
Do any of the leading race teams use your Paint Protection Kits?
Our Paint Protection Kits are used in the BSB, WSBK, MotoAmerica, ASBK, Moto2 and Moto3 paddocks with teams including the BMW WSBK Team, Westby Racing, McAMS Yamaha, DesmoSport Ducati, Red Bull KTM and Petronas Sepang. Our teams have thoroughly tested our Paint Protection Film and helped us make it the best it can be.
Over 120 Kits Available
We have created bespoke kits for all the major manufacturers including BMW, Ducati, Honda, Kawasaki, Yamaha, Aprilia, KTM, Suzuki and Triumph, as well as universal sets. Together with our standard range of pre-cut kits, we also offer rolls of PPF in 75mm, 100mm & 150mm widths , ideal for protecting front forks, chassis rails and swingarms. If there isn't a kit listed for your bike, just let us know and we will see if we can create it.
Click here to get an Eazi-Grip Paint Protection Kit for your motorbike.