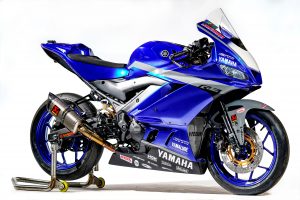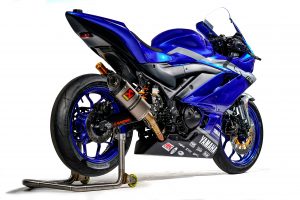 We are delighted to be involved with McAMS Yamaha and Yamaha Motor UK'S R3 blU cRU Challenge for developing upcoming racers. Here are the details and how to apply to take part…
Applications are open to join Yamaha Motor UK's R3 bLU cRU Challenge in the 2021 British Junior Supersport Championship, which will again run alongside the popular Bennetts British Superbike series next year supported by McAMS Yamaha.
The programme, which looks to engage with, nurture and develop new riders and home-grown talent, will be expanded in 2021 to offer more support and benefits to riders running the YZF-R3 in the growing Junior Supersport class.
Brody Crockford flew the bLU cRU flag in 2020, taking his Crescent Motorcycles R3 to two race wins on his way to third in the championship, demonstrating the front-running capabilities of the bike.
For 2021, Yamaha Motor UK will run the R3 bLU cRU Challenge | UK for registered R3 riders within the Junior Supersport class, which will offer the two highest placed bLU cRU riders in the standings at the end of the season the chance to take place in the R3 bLU cRU Masterclass, where they will be given the opportunity to learn from their Yamaha Racing heroes as they attempt to secure a spot in the 2022 R3 bLU cRU Challenge, which runs within the World Supersport 300 championship.
Riders participating in the UK programme will receive support from Yamaha Motor UK, which includes:
• Technical assistance from our official British Superbike team (McAMS Yamaha)
• Thursday track walks with Yamaha rider ambassadors
• The chance to run in our iconic Race Blue colours and become an integral member of the Yamaha Racing family
• Opportunities to feature in the official Yamaha Racing UK press and social media coverage
• Workshops and seminars with Yamaha Racing ambassadors including but not limited to BSB stars Jason O'Halloran and Tarran Mackenzie
• Paddock Blue race wear
Riders are not automatically entered into the R3 bLU cRU Challenge | UK and must meet the following requirements to submit their entry to the programme:
• Riders must apply through an official Yamaha dealer (contact Raceways Motorcycles today)
• Riders must follow the official bike livery and R3 bLU cRU Challenge branded Paddock Blue clothing and leather suit designs
• Riders must be between the ages of 14-20
• Deadline for entries is Friday 20th March – riders must also be registered with MSVR for the Junior Supersport Championship by this time
Steve Rodgers
McAMS Yamaha Team Principal
"We are delighted to be supporting Yamaha UK's R3 bLU cRU Challenge in the British Junior Supersport championship next year. It is great to be able to put something in to the development of young talent in our sport. McAMS Yamaha will provide technical support to any registered bLU cRU rider including support from our talented electronics engineer Tim and our Ohlins suspension engineer, Mike Norton, who spent 12 years working with Valentino Rossi.
We will also be supporting the programme by entering our own YZF-R3s in the series and will build more for anyone who wants one. Our bikes are built to the highest spec permitted within the British Junior Supersport series and we have worked with the same technical partners we work with on our race-winning YZF-R1 Superbike including Akrapovic, Ohlins, Spider, Evotech, Gandini, RK Chains, MRA Race Screens and the engines are prepared by our BSB race tuner Rev2Race.
Taz and Jason will also be on hand as bLU cRU ambassadors and take part in bLU cRU track walks, while further rider coaching will also be available from throughout the McAMS Yamaha team."
Harry McKenzie
Marketing Coordinator – Yamaha Motor UK
"Yamaha Motor UK is excited and greatly looking forward to providing a platform for young YZF-R3 riders to develop their race craft in the 2021 HEL Performance Junior Supersport Championship via the R3 bLU cRU Challenge | UK.
"The synergies created between our Junior and Senior racing categories is something that we are extremely proud of and we are confident that this will help young riders develop and progress through their Yamaha Racing journey with this programme offering not only the chance to develop as a racer, but also the opportunity to break on to the world stage if successful."