This year saw us return to Milan for the World-renowned Eicma exhibition!
Regarded as the best motorcycle exhibition in the World, we were very excited to return. While the bosses, Andy and Malcolm, had exhibited at Eicma before, it was the first time for David and Kerry.
Landing late on Sunday, we checked in to the Milan Suite Hotel and set off to find something to eat. The only place that was open was a pizza place, which seemed appropriate when in Italy. Andy ordered a margherita with a side order of fries, but this happened… For a country that doesn't like putting pineapple on pizza it was a surprise to say the least!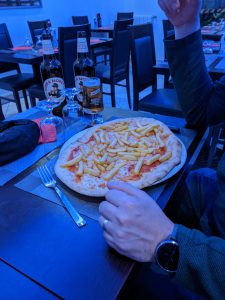 All fed and watered, well a large beer, we turned in for the night, ready for set up day on Monday.
Monday – Set Up Day
We headed to Eicma to find our stand ready with all the graphics on the walls, and the display case waiting to be filled with our Silicone Hoses, Paint Protection Kits and Tank Grips. Puccetti Racing arrived with their Kawasaki ZX-10RR race bike with their Eazi-Grip Motorcycle Tank Grips, and within a couple of hours we were ready to go!
With set up done, we set off to explore Milan…
It is a beautiful city with stunning architecture. The only downside is they don't do cider! Kerry and Andy walked 12 miles on their expedition, while continuing Andy's culinary tour of Italy with a McDonalds!
After a busy day exploring we headed to a little Italian restaurant down the road from the hotel for tea. It was very popular and when we got the food, we saw why. A very welcome meal of good, hearty Italian food washed down with a well-deserved drink.
Tuesday – Press and Trade Day
We arrived at the stand ready for a busy day meeting our stockists and attracting new enquiries. The motorcycle reveals started in the morning with Suzuki the first to reveal their 2023 models, then Honda, followed by Kawasaki. Ducati, Triumph and Yamaha were also at the show with their new offerings. Kerry was glad she wore her flat shoes, as she flew around the halls getting photos and videos of the new metal, while checking the tanks, panels and dashboards for any updates needed for our 2023 products.
To see all the new bikes, check out our shorts on YouTube and our Instagram Eicma 2022 story highlights. Our YouTube channel can be found here.
In the evening we headed to Garibaldi for a look around and a couple of drinks. More pizza was consumed too, although without the chips this time!
Wednesday – Trade Day 2
After a very productive day yesterday attracting plenty of new enquiries and meeting some of our stockists, the momentum continued with further meetings and new interest. The Puccetti Racing ZX-10RR was attracting a lot of attention with visitors praising the look and feel of our Tank Grips. Business cards were exchanged all day, along with our brochures being collected and plenty of photos being taken.
While Andy and Malcolm conducted their client meetings, Kerry went trotting off again to see what she could find. While visiting the main Kawasaki and Yamaha stands we were delighted to see our Tank Grips, Paint Protection and Silicone Hoses on their show bikes!
As we were so impressed with the Italian restaurant down the road we visited on Monday, we headed back there for tea and drinks before heading to bed.
Thursday – Public Day 1
Kerry and Malcolm were flying back home today, leaving Andy and David to complete the public days. Kerry and Malcolm headed to the show for a couple of hours in the morning for a meeting and immediately saw the change in the number of people. It was a lot busier!
Andy and David had a couple more meetings with our clients today, and then headed to an Indian for tea before turning in.
Friday to Sunday – Public Days
A couple more meetings over Friday and Saturday, and greeting the public visitors to our stand, then it was home time for Andy and David on Sunday.
Eicma was a great success, with many new exciting enquiries for us to follow up. We can't wait to return again!