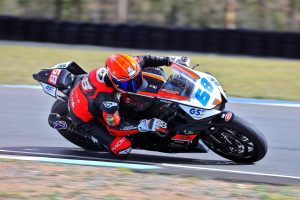 The 2020 Australian Superbike Championship (ASBK) will conclude this weekend at Wakefield Park Raceway, two hours south-west of Sydney, where Oli Bayliss will be looking to secure the Australian Supersport Championship in a spectacular double header format. With riders on track from Thursday and four races to contest over the weekend, it's sure to be a challenging and exciting weekend of racing.
Team owner, Ben Henry: "I'm really impressed with Oli. It's been a challenging year in so many ways, but as a now seventeen-year-old, he's managed to stay motivated, continue training and has kept looking to improve, despite the lack of racing due to covid. When he's on the bike, he has confidence, and I think we have the package to get the job done this weekend".
Oli Bayliss: "It's been a tough year to keep motivated without being able to race as much as we planned, but luckily for me, I'm surrounded by people that keep me on track. Ben at the workshop, my brother Mitch at the gym as well as Dad at home has meant my fitness levels are better than ever and I'm just as motivated to win this weekend as I was at Phillip Island in February. It's going to be a big weekend on track, but I'm ready to get to work".
Event Schedule
Friday December 4
9:40am Qualifying 1
12:55pm Qualifying 2
Saturday December 5
9:20am Warm-up – 5 Min
10:35am Race 1 – 14 Laps
1:10pm Race 2 – 14 Laps
Sunday December 6
9:20am Qualifying
11:15am Race 1 – 14 Laps
1:50pm Race 2 – 14 Laps
Posted on Tuesday, December 1st, 2020 in News