Saturday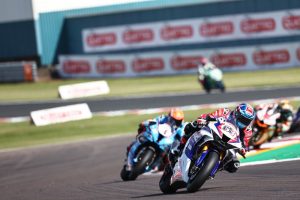 Glenn Irwin came home in a fantastic fifth place this afternoon aboard the Honda CBR1000RR-R Fireblade SP, in the opening race of the weekend at Donington Park, where Honda Racing UK teammate Ryo Mizuno came home in the points in 15th place.
Heading into qualifying, Glenn was fourth on combined times after the three practice sessions at the 1.98-mile National Circuit, meaning he went straight into Q2. Qualifying ninth, Glenn started the 20-lap eBay Sprint Race from the third row of the grid, but soon started to gain places.
By the tenth lap a podium looked to be on the cards as Glenn was sitting third, but having some good on-track battles with his BSB rivals he eventually crossed the line fifth and will start tomorrow's second race from sixth on the grid.
Teammate Ryo Mizuno scored his first BSB points of the 2022 season coming home in 15th place, having started the 20-lap sprint race from 19th. Progress of the race has to go to Takumi Takahashi who qualified 24th but took the chequered flag in 16th having made up eight positions across race distance.
BSB rookie Tom Neave has had a mixed weekend, passing fit in yesterday's medical assessment Tom was 20th in combined practice and while running ninth in the first qualifying session crashed out, unhurt, at Craner Curves. Starting the race from 22nd on the grid, Tom was hunting down a point scoring finish, but dropped back to finish 19th.
Tomorrow (Sunday 22 May) the Honda Racing UK team will be back in action with Race 2 and Race 3, however after careful consideration Tom will not be taking part in the races having felt some concussion side affects, following his crash last time out at Oulton Park.
#2 Glenn Irwin
We had a frustrating qualifying session where everything seemed to go wrong. On the grid I knew I had to make a good start, Taz (Mackenzie) is carrying an injury, Tom (Sykes) is incredible on the brakes and I wanted to get in with the three boys at the front. I managed to do that and had a good start, passing Tom at the end of the first lap and worked my way up to third at one stage. All weekend we've struggled a little with the front end and I think I could have used my experience to point the guys in the direction to help with front end entry, and the race today highlighted where we were struggling. That being said I scored 11 points and to come here after the two wins at the North West 200 and to have a fifth in the first race back at BSB pleases me.
#88 Ryo Mizuno
First of all, I am relieved to have scored my first points of the season. This time, I tried to stay on track and do laps from Friday, and we were able to solve all the problems we had so far, one by one. In qualifying we were one step short of making it to Q2, but we were well prepared and ready for the race. I was able to follow the riders in front at a good pace until the middle of the race, but in the second half of the race I had some issues and could not keep up the pace. We know what the issue is and we will try to improve it in tomorrow's two races in order to move up to the top positions!
#13 Takumi Takahashi
This weekend at Donington Park hasn't felt as good as Silverstone and Oulton, and I didn't manage to improve until qualifying. In today's race, I couldn't get a good position after the start, but my feeling with the Fireblade is improving a little, so I will try to finish in a good position in tomorrow's two races.
#68 Tom Neave
Today has been a difficult one for me. Donington is a place I love riding at but after taking part in today's opening race I have decided not to take part in tomorrow's races. I passed the medical assessment yesterday, but during the race I was still suffering the effects of my concussion and I don't want to endanger myself, or anyone else by racing tomorrow. We have a small break now until the next round at Knockhill, so I'll focus being 100% for that round.
Sunday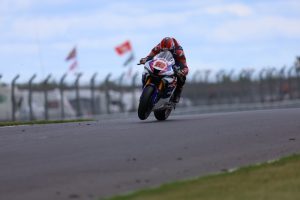 It's been a weekend of highs and lows for the Honda Racing UK team at Donington Park, where in today's Bennetts British Superbike Championship races Glenn Irwin suffered two DNF's, but teammates Ryo Mizuno and Takumi Takahashi collected season points aboard the Honda CBR1000RR-R Fireblade SP.
Wrapping up yesterday's sprint race in fifth place, Glenn was looking forward to both 26-lap races at the National Circuit today, however disaster struck in Race 2, when while chasing down a podium position his footpeg broke, causing him to retire from the race on lap 12.
For the final race of the day, Glenn lined up seventh on the grid with the view of recouping lost points following the DNF earlier in the day. On the sixth lap however, Glenn crashed out of the running, unhurt, after Leon Haslam highsided in front of him at Starkey's. Taking quick action to avoid Leon's stricken machine, Glenn had no choice but to go across the grass, putting an end to his race.
For teammates Ryo and Takumi it was a Fireblade battle in both of today's races, as the duo hunted down point scoring finishes. Going head to head in Race 2, the pair moved through the pack from their grid positions, with Ryo starting 17th and Takumi 20th. During the closing stages of the 26-lap race, both wanted the final point-scoring position in 15th, swapping places on the final lap Takumi was up to 15th, with Ryo hot on his heels in 16th. Coming into the chicane approaching the chequered flag the pair were side by side and it was Ryo who clinched 15th place, with Takumi just 0.069 seconds behind.
Race 3 was a similar affair with Ryo and Takumi chasing down points. Starting from 21st and 22nd respectively on the grid, they soon made up places with Takumi 13th at one stage. Swapping places throughout, the pair were eventually separated by Storm Stacey when they crossed the line with Ryo 13th and Takumi scoring his first point of the season in 15th.
There's now a break in the Bennetts British Superbike Championship before Round 4 at Knockhill on 17-19 June, but for the Honda Racing UK team they head to the Isle of Man TT Races, where Glenn will be a newcomer and John McGuinness MBE marks his 100th TT race start.
#2 Glenn Irwin
Today was a day of two halves really. Race 2 I felt good, I could see a few riders ahead dropping back and I was getting closer, but we were so unlucky to have a footpeg break on us. In the last race today I had a bad start, but quite an aggressive first lap, I made moves but also had moves put on me. I started to settle in and I looked to pass Leon [Haslam] into turn one, and in hindsight I should have made the move, as Leon had a massive highside in front of me. I'm glad he's OK and walked away from it, but I was caught up in it, having to swerve to take avoiding action and thankfully thanks to my kit there's no scratches on me. I'm a little hurt we didn't get good points today, as I feel it could have been a weekend of three top fives or a podium, but I'm pleased with the progress we made.
#88 Ryo Mizuno
This weekend I scored points in all three races. Throughout the weekend I have renewed the way I use the sessions and have made overall improvements that have led to the results. We still have a lot to improve, but I enjoyed this weekend, we will continue to improve race by race, and try to improve our results every race!
#13 Takumi Takahashi
I got off to a slow start in both Race 2 and Race 3, so I couldn't complete the task I had in mind. In Race 2, I struggled to pace up from the start, but I was able to improve my pace a little bit in the second half, but it was too late. Race 3 was better than Race 2 with me working on improving my pace in the early stages, but I lost pace towards the end and dropped to 15th place as a result, which was disappointing, but I scored my first point of the season and now aim to get more.