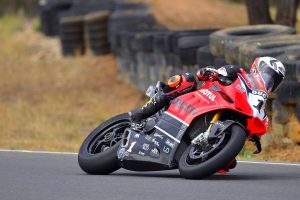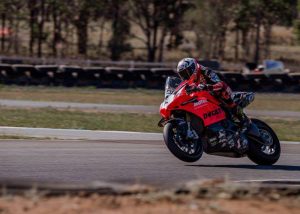 With the championship paused for majority of 2020, Gold Coast-based DesmoSport Ducati is primed to close out the 2020 Australian Superbike Championship (ASBK) season successfully with Mike Jones aboard the Ducati V4R. The double header format at Wakefield Park Raceway this weekend will see Jones on the grid for four races across both Saturday and Sunday chasing the 102 points on offer over the weekend.
Team Co-Owner, Ben Henry: "I'm excited to get back to the ASBK paddock this weekend! Our start to the season was less than ideal, however our post-race analysis highlighted strengths that we've worked hard on taking further advantage of. The double-header format adds some complexity to the weekend, but we're looking forward to the challenge and I can't wait to see Mike back on track against a strong field of superbike competitors".
Team Co-Owner, Troy Bayliss: "Although we did get a few local rounds in, it's great to finally be heading back to an ASBK round where we can race a full field of Australia's best superbike racers. Ben has continued to work on fine-tuning the V4R all year to give Mike the best possible chance of a strong finish to the season, and I can't wait to see the action on track".
Mike Jones: "I love racing, so I'm pretty excited to get on track again. It's been a tough year for so many people here and around the world, so I really am grateful we get the opportunity to race at all. I've been able to keep training in the break, getting plenty of time in on the mountain bike especially, but also a few of the local races on the V4R here in Queensland and I feel ready. Obviously, with a double header format, we have a lot more time on track compared to a usual ASBK round and it will be a lot more psychically demanding, but my program is strong, I feel really good and with Koda nutrition, my hydration and fuelling are taken care of".
Posted on Tuesday, December 1st, 2020 in News