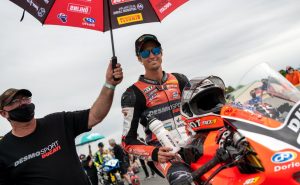 Multiple Australian Superbike Champion Mike Jones will return to DesmoSport Ducati for the 2021 Australian Superbike Championship (ASBK). In an expanded, 2-rider team line-up, Jones will look to cement his status as one of Australia's best superbike racers aboard the DesmoSport Ducati Panigale V4 R, and race for the 2021 championship.
Mike Jones: "It's great to continue racing with the DesmoSport Ducati team. I've had a lot of success with this outfit in the past and I'm confident that we can win races and challenge for the championship this season. I'm especially excited about Oli joining the team, it's going to be a lot of fun and I'm looking forward to sharing my experience of the Panigale V4 R with him, and additionally, I think I'll be able to take advantage of the extra data we'll gain by having two riders on track. I'm feeling motivated, determined and ready to go racing again!"
Team Co-Owner, Ben Henry: "Mike has the potential to win every time he hits the track and continues to prove that he's a world class athlete. He has an incredible work ethic on the bike and I'm really happy that he'll be leading our 2021 ASBK campaign. Mike and I have won two championships together and I'm confident that we'll make it three in 2021″.
Sergi Canovas, Managing Director of Ducati Australia: "We reaffirmed our commitment to racing in Australia, and to DesmoSport Ducati in 2020, so we are thrilled to continue that partnership as the team not only retains Mike Jones, but also expands to welcome Oli Bayliss to the Ducati family. Ducati has a strong connection in racing to Australia, so to see the son of one of our champions step up to race the Panigale V4 R is special for sure, and we wish the team all the best as they head into the 2021 ASBK season".
Team Co-Owner, Troy Bayliss: "Ben and I have a great group of people and companies that support DesmoSport Ducati, and it's thanks to them that we're able to take this step forward and have two riders in the premier Superbike class. Mike is a great racer and as he proved in 2019, more than capable of winning against the best riders and teams in Australia, and I think we'll see him racing for the win every time he's on track".
Posted on Wednesday, January 13th, 2021 in News