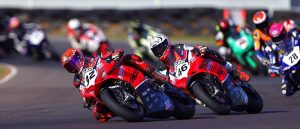 It was four 1-2 finishes for DesmoSport Ducati as Oli Bayliss and Mike Jones took to a warm Morgan Park racetrack for the fourth round of the Southern Downs Series & Queensland Road Race Championships. The six-lap sprint races left little room for error and the Panigale V4 R mounted team-mates didn't hold back, battling till the chequered flag in every race.
Oli Bayliss

Qualified: 1st (1:13.467)
Fastest Lap: 1:12.718
Results: 1-1-1-1, 1st Overall

Mike Jones

Qualified: 2nd (1:13.894)
Fastest Lap: 1:12.885
Results: 2-2-2-2, 2nd Overall
Team co-owner, Ben Henry: "It felt so good to go racing again! We've made it a bit of habit to race the Southern Downs Series when we can. There's usually a mix of ASBK guys along with local racers on track which makes it interesting, and I think there's a lot of riders here that get a bit of kick when the boys come through at full speed! It's a race meeting that always has a lot of smiles in the pit, and ours was no different. Both Mike and Oli were quite strong in every session, and Oli just continues to impress me. He once again raced with the pressure of a seasoned ASBK rider in Mike pushing him and he took it in his stride, rode smart and rode fast. We were just outside of the ASBK lap record with both guys, and I see no reason why we won't keep this form going."
Oli Bayliss: "I'm having so much fun on the bike, and everything just fell into place on the weekend. The Panigale V4 R is working really well, and I feel so comfortable on the bike that if anything, I just wish the races were longer to stay on track more! Mike was pushing me pretty hard, but I never felt out of my comfort zone. This weekend was the first time my nephew Airo has come to a race meeting too, so I'm glad I could win for him."
Mike Jones: "Although we've tested since my crash in Darwin, it's never the same feeling as racing, so I was really happy to be back on the Panigale V4 R for four races this weekend. We set a fast pace in every session, and Oli and I pushed pretty hard every lap, but in the end, I had to settle for second. Oli rode really well this weekend and he keeps progressing strongly, I'm going to have to pull out a few tricks when we get back on track for the longer ASBK races to stay in front of him!"
Team co-owner, Troy Bayliss: "Mike and Oli did a solid job this weekend. Although there were some ASBK guys here, I think it was expected that we would win. We're traditionally strong here being our local track and Mike and Oli didn't disappoint. I think the best time I did here in 2018 for ASBK was a 12.9, and they both went faster than that on a hot track. Hopefully the border restrictions ease and we can resume the ASBK and take up where we left off!"
The team now awaits updates from Motorcycling Australia and multiple State Government decisions on border restrictions before the next round of the ASBK to be held at The Bend in South Australia next month.