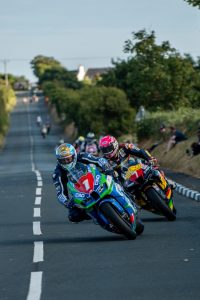 Rapid lap speeds, scintillating, spellbinding action was an absolute guarantee for tonight's sole 1000cc Southern 100 encounter, the seven-lap Ellan Vannin Fuels Senior race.
Fastest out the blocks was DAO Racing's Dean Harrison, closely pursued by last evening's Superbike victor Davey Todd.
Harrison continued to lead at Cross Four Ways, Todd remained second with Nathan Harrison third.
Lap one's conclusion saw Harrison head Todd by just 0.248 of a second, Senior Manx GP winner Harrison (Nathan) held third but was soon overtook by 21 times TT winner Dunlop.
Across lap two, Harrison marginally extended his race-lead, helped via a new race lap-record of 2 minutes 13.736 seconds.
Edging near the existing lap-record, Harrison (Dean) set another race lap-record on lap three, lapping over the 115-mph mark.
Second placed Todd 0.692 in arrears, also nudged over the 115-mph barrier.
116.073 mph, were the words uttered in amazement by Commentator Tim Glover, as Harrison once lap four finalised set a blistering new lap record.
This lap-record was soon bested by Todd now 0.614 behind, lapping at 116.141 mph.
Todd bit a touch more out of Harrison's lead on lap five, the gap was now only 0.451 of a second.
Could Todd repeat his Tuesday evening heroics and get the better of Harrison on the seventh and final lap?
The answer was no but not before a huge effort from Todd, who got to just 0.094 in arrears to now 25 times Southern 100 winner Harrison.
Almost 15 seconds behind Todd, Dunlop took third with fourth going to twice Manx GP winner Harrison (Nathan) after another close battle alongside P5 finisher, prior Super Twins winner Jamie Coward.
Irish Road Race Superbike Championship leader Michael Sweeney placed a solid sixth whilst positions 7th-10th went to Super Twins lap-record holder Rob Hodson, Paul Jordan, Anthony Redmond and Marcus Simpson.
Southern 100 – Ellan Vannin Fuels Senior race result:
1st – Dean Harrison
2nd – Davey Todd
3rd – Michael Dunlop
4th – Nathan Harrison
5th – Jamie Coward
6th – Michael Sweeney
7th – Rob Hodson
8th – Paul Jordan
9th – Anthony Redmond
10th – Marcus Simpson
11th – Richard Charlton
12th – Jamie Williams
13th – Adrian Kershaw
14th – Michael Russell
15th – Mark Parrett
16th – Forest Dunn
17th – Jonathan Perry
18th – David Brook
19th – Stephen McKnight
20th – Daniel Forbes
21st – Dennis Booth
22nd – Paul Gartland
23rd – Zach Oultram
24th – Alan Connor
25th – Darran Creer
26th – Gary Ford
27th – Geoffrey Lunn