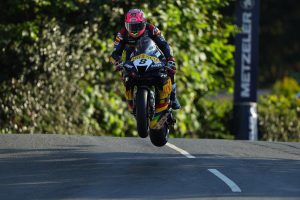 Davey Todd has announced that he has parted ways from Clive Padgett's team in an amicable agreement to bring their highly successful association to an end.
Todd won his first major road race in the Supersport class at the North West 200 on the Milenco by Padgett's Honda in 2019, while last year the Saltburn rider clinched the National Superstock 1000 title for the celebrated Batley team.
The 27-year-old was also a double Supersport winner at the North West in May on the Padgett's 600 and dominated the Southern 100 in 2022 with a five-timer, but Todd's switch to the British Superbike Championship this season has not gone according to plan.
He rode his final race for Padgett's team at Armoy on Saturday, finishing seventh in difficult conditions in the 'Race of Legends', which he won for the first time last July.
Todd – who was second in the Open Superbike race at Armoy in the dry behind Michael Dunlop – confirmed the news on his latest vlog on YouTube on Sunday evening.
"It's a bit of a sad ending to an era with that being my last ever race that I'll ride for the Padgett's team," Todd said.
"For now anyway, we're going our own separate ways. I've had a fantastic time with the team and loved every second of it, achieved a lot together, becoming 'stock 1000 champion last year in BSB and having a lot of amazing results along the way.
"I had great times and great laughs with all the boys, all the team – they're like a family to me. They're an awesome group of guys but we just feel like now's the time to go our separate ways," added Todd, who earned his first TT podium in the Superstock class in 2022, taking third behind Peter Hickman and his Padgett's team-mate Conor Cummins.
"We still have a great relationship and I don't want it coming across like anyone thinks we've fallen out or anything like that – myself and Clive are still going to be the best of friends, definitely.
"It's just been a really challenging year for us and really difficult for a team like the Milenco by Padgett's guys to compete in the British Superbike Championship, and it's been tough on everybody to step up to that Superbike class with a small team budget.
"We both just don't feel it's doing us justice to be running around at the back of the grid."
Todd, who has been linked to several teams, said he is set to return to the British Superbike Championship at Cadwell Park at the end of August.