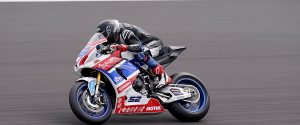 Danny Kent topped a hectic final Bennetts British Superbike Championship test session before the lunchbreak on the second day of action at Silverstone as the Buildbase Suzuki rider set the pace-setting lap of the test, 0.156s faster than Jason O'Halloran's fastest lap from yesterday.
The session before lunch was briefly interrupted by light spots of rain, and all the riders headed back into pitlane. However, it was only a short pause as the final half of the 40-minute session was a flurry of action as O'Halloran continued to set the benchmark for McAMS Yamaha.
Glenn Irwin then had a spell at the top for Honda Racing and with less than 15-minutes remaining he moved 0.232s ahead of O'Halloran with Kent holding third position with Ryan Vickers and Xavi Forés completing the top five.
The session was briefly paused for a red flag when Joey Thompson crashed the NP Motorcycles BMW, but the final five minutes was action-packed as the contenders had their final exits before the break.
O'Halloran held the edge into the final minutes of session six, but with under three minutes remaining Kent upped his pace to move to the top of the timesheets ahead of teammate Gino Rea and O'Halloran.
Kyle Ryde though was also on a faster sequence of laps and the Rich Energy OMG Racing BMW rider, who had topped this morning's session, was able to move into second place and within 0.109s of Kent to split the Buildbase Suzuki teammates.
O'Halloran held fourth place at the chequered flag ahead of the VisionTrack Ducati pairing of Christian Iddon and Josh Brookes, with Xavi Forés for FHO Racing BMW and Danny Buchan for SYNETIQ BMW completing the top eight.
Irwin held ninth place on the timings at the end of the session for Honda Racing with Tommy Bridewell completing the top ten for the Oxford Products Racing Ducati team.
Bennetts British Superbike Championship Official Test, Silverstone, Session 6:
Danny Kent (Buildbase Suzuki) 53.313s
Kyle Ryde (Rich Energy OMG Racing BMW) +0.109s
Gino Rea (Buildbase Suzuki) +0.122s
Jason O'Halloran (McAMS Yamaha) +0.324s
Christian Iddon (VisionTrack Ducati) +0.363s
Josh Brookes (VisionTrack Ducati) +0.377s
Xavi Forés (FHO Racing BMW) +0.450s
Danny Buchan (SYNETIQ BMW) +0.452s
Glenn Irwin (Honda Racing) +0.470s
Tommy Bridewell (Oxford Products Racing Ducati) +0.582s