GasGas rider Sunderland initially took the lead of the Saudi Arabian event on Stage 2, and maintained a slim advantage of two minutes, 39 seconds at the head of the table into Saturday's rest day.
However, the Briton's hopes of adding a second Dakar victory to his 2017 triumph took a blow on Sunday's 402km Riyadh-Al Dawadimi test, as navigational problems left him 25m55s behind the day's winner Jose Ignacio Cornejo.
It means Sunderland has slipped to fourth overall, albeit only 5m38s down on new leader Adrien van Beveren as his previous closest rival, Matthias Walkner, also suffered a difficult day.
Sunderland's job was made even harder by acrash for his GasGas teammate Daniel Sanders on the liaison section prior to the stage, leaving him with the unenviable task of opening the road.
"It was a bit of a rough day," said Sunderland. "It started out bad for Sanders with a crash in the liaison and then the stage was really, really difficult with the navigation, so not ideal to start in front.
"Where the rains have passed through after the 00 car, so many of the tracks are washed away, so it's a bit of a casino. You just flip a coin and hope it's that one. Honestly, it's a bit frustrating, but at the same time I'm sure the next days will be the same for the other guys.
"Even yesterday, when people were asking if I was excited about leading the race, of course, it's cool, but it means nothing on the rest day. We still have so many long days in front of us and I'm sure there'll be some more opportunities to attack, to recuperate some time.
"I'm happy for [van Beveren], but at the same time, he'll have to open tomorrow, so he'll have the same job. This is a race and why it's interesting."
Yamaha rider van Beveren finished 10th on the stage, losing some 12m34s to Cornejo, but now has a 5m12s advantage over KTM's Walkner in the general classification with five stages to run.
"I tried to attack wherever I could, but it was a tricky special from the point of view of navigation," said the new overall leader. "I knew it could pay off handsomely, so I gave it my all. It worked out.
"I'll do my best to defend my lead, but without going crazy. My goal is to make it to the finish line. I've been saying it from the beginning and that hasn't changed. I'll draw upon my experience and stick to the original plan.
"It's still far from over, and I intend to push hard until the end. If it all falls into place, it will be fantastic."
Dakar 2022, Stage 8: Sunderland retakes lead with victory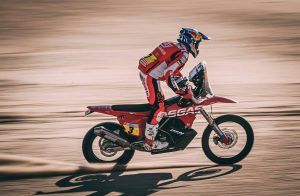 GasGas rider Sam Sunderland retook the overall lead in the Dakar Rally's bikes competition on Monday as he picked up a first stage win of the event.
Sunderland, who led almost all of the first week of the Saudi Arabian event, had lost the advantage as the rally resumed after rest day on Sunday, ashe lost almost 26 minutes to the leaders on what he described as a "casino" stage in terms of navigation.
However, the Briton struck back on Monday's 395km Al Dawadimi-Wadi Ad Dawasir test, leading at every single waypoint to win the stage by two minutes, 53 seconds and vault himself from fourth to first in the general classification.
Overnight leader Adrien van Beveren by contrast endured a tougher day as the second rider on the road, but the Yamaha man limited his time loss to Sunderland to 10m21s, finishing ninth.
It means the Frenchman has slipped to third overall, 4m43s behind Sunderland and just under a minute behind KTM's Matthias Walkner, who held on to second with the third-best stage time.
Just a further 47 seconds behind van Beveren in fourth is Pablo Quintanilla, who ended up as Sunderland's nearest challenger on a strong day for the Honda contingent.
The Chilean rider moved up two places from sixth overnight, while making a similar jump to fifth was his teammate Joan Barreda, who sits 14m38s behind Sunderland.
KTM's reigning champion Kevin Benavides had a stage to forget as he shipped some 15 minutes to Sunderland, sliding from third overnight to sixth overall behind Barreda.
Likewise having a day to forget were Lorenzo Santolino (Sherco), who has slipped from fifth to seventh, and Stage 7 winner Jose Ignacio Cornejo, who dropped from ninth to 12th after opening the road.
Toby Price (KTM) was sixth-fastest and has now re-entered the top 10 overall in ninth, 32 minutes off the lead, while Ricky Brabec (Honda) moved up a place in the general classification to 13th.
Yamaha lost one of its factory contingent on Monday as Ross Branch withdrew from the rally. The Botswanan rider was suffering from bruising from a fall on Stage 6, prior to the rest day, and opted to remain at the bivouac in the morning.
Branch becomes the third factory retirement of the rally following Skyler Howes (Husqvarna) on Stage 5 and Daniel Sanders (GasGas) prior to Stage 6.
Standings after Stage 8:
Pos.
#.
Name
Mark
Time
Gap
Penalty
1
3
Sam Sunderland
KTM
27:38:42
00:00:00
2
52
Matthias Walkner
KTM
27:42:27
+00:03:45
00:00:00
3
42
Adrien van Beveren
YAMAHA
27:43:25
+00:04:43
00:00:00
4
7
Pablo Quintanilla
HONDA
27:44:12
+00:05:30
00:00:00
5
88
Joan Barreda
HONDA
27:53:20
+00:14:38
00:01:00
6
1
Kevin Benavides
KTM
27:53:29
+00:14:47
00:00:00
7
15
Lorenzo Santolino
SHERCO FACTORY
27:59:51
+00:21:09
00:00:00
8
142
Stefan Svitko
KTM
28:05:33
+00:26:51
00:00:00
9
18
Toby Price
KTM
28:11:12
+00:32:30
00:06:00
10
43
Mason Klein
KTM
28:14:08
+00:35:26
00:00:00
Dakar 2022, Stage 9: Cornejo wins, Walkner moves into lead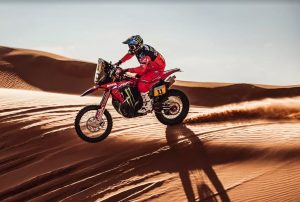 Honda rider Jose Ignacio Cornejo picked up his second stage victory of the 2022 Dakar Rally on Tuesday, as KTM's Matthias Walkner capitalised on Sam Sunderland's struggles to move into the overall lead.
The 287km test near Wadi Ad Dawasir was dominated by the factory Honda team, with Cornejo and 2020 winner Ricky Brabec trading the top spot throughout the day.
Cornejo held the early advantage after the first waypoint on 40km but was quickly leapfrogged by Brabec on the sister CRF 450 Rally bike. The 30-year-old went on to build a small buffer for himself until the fourth waypoint, but was powerless to prevent the Chilean rider from repassing him en route to a 1m26s victory in Stage 8.
Brabec eventually slipped to third in the day's standings behind the leading KTM of Kevin Benavides, losing time in the final 86km run to the finish.
2018 Dakar winner Walkner was never in contention for a podium finish but ended up just 2m06s off the top spot in fourth, grabbing the overall lead in the process.
The Austrian rider took advantage of a difficult showing for overnight leader Sunderland, who finished more than eight minutes off the pace in 14th after opening the road on his GasGas bike.
The two riders are separated by 2m12s at the top of the standings with three stages still to run in the rally-raid before they reach the finish line in Jeddah on Friday.
Adrien van Beveren continues to hold third place overall on the Yamaha, while Pablo Quintanilla remains Honda's top runner in fourth after finishing eighth in today's stage.
Benavides and Honda's Joan Barreda occupy fifth and sixth places respectively, ahead of Sherco rider Lorenzo Santolino.
Victory in Stage 9 has vaulted Cornejo to ninth place, while Andrew Short's run to sixth has dropped KTM's Toby Price outside the overall top 10.
Overall standings after Stage 9:
Pos.
Name
Mark
Time
Gap
1
Matthias Walkner
KTM
30:14:03
2
Sam Sunderland
GasGas
30:16:15
+00:02:12
3
Adrien van Beveren
YAMAHA
30:17:59
+00:03:56
4
Pablo Quintanilla
HONDA
30:18:44
+00:04:41
5
Kevin Benavides
KTM
30:24:25
+00:10:22
6
Joan Barreda
HONDA
30:25:00
+00:10:57
7
Lorenzo Santolino
SHERCO FACTORY
30:40:57
+00:26:54
8
Stefan Svitko
KTM
30:41:55
+00:27:52
9
Jose Ignacio Cornejo
HONDA
30:46:33
+00:32:30
10
Andrew Short
YAMAHA
30:49:02
+00:34:59