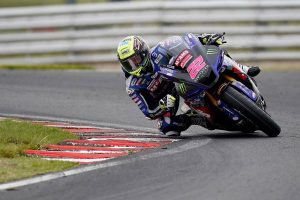 Jason O'Halloran arrives at the second round of the Bennetts British Superbike Championship as the standings leader following his hat trick of victories at the season opener; and the McAMS Yamaha rider is determined to come out fighting at the only circuit where he has yet to claim a podium finish.
A calculated performance at Oulton Park meant that O'Halloran secured three race wins to kick off his campaign in style, but the McAMS Yamaha rider admits that he would have been disappointed if he hadn't opened his winning account at the opener, given his pre-season form.
"I certainly went to Oulton Park to win so it wasn't unexpected that I was in a positon to win because I felt like we'd done good work throughout the pre-season," said O'Halloran. "We had a good test and also a good race there last year so everything was in place to have a good weekend, but obviously actually racing superbikes is different to just doing fast lap times. We didn't really know how it was going to pan out until we got there and got the first one underway, but it was really good."
"The race on Sunday was pleasing; last lap battles are normally quite difficult, especially against Christian because he's really strong on the brakes. To do what I did in the first race was special and to feel as comfortable as I did in the second race, I used no energy whatsoever throughout the race.
"I was really comfortable and I was ready to make an attack on the last lap and I didn't hesitate at all. As soon as an opportunity presented itself I went for it and managed to win – it was a perfect start for us. It's 75 points on the board, 15 podium points and you can't get any better than that! It was just a nice start to what has been an extended break so good for the team, our sponsors and for me. It was absolutely spot on!"
The Championship now heads to Knockhill, but the Scottish venue has never been a happy hunting ground for the O'Show in the past. The Australian has been thwarted by bad luck there in the past, something that he is hoping to overturn this weekend.
"You know, Knockhill for me is really important," said O'Halloran. "Although I've been racing over here for a while I've not actually done that much at Knockhill. I've had bad experiences there in the past and I've not actually done that much riding there.
"It's a track where I really needed to test. I did a huge amount of laps there in the test recently so I'm really thankful for the time we got on track. The weather was perfect for us, so I just kept doing laps all day and was learning as much as I could. We did a lot of work on the bike and but it was also for me to learn as much as I could because it's a technical track. Although it's small it's really technical and you need the experience there to go fast.
"I was just like a sponge," reflected O'Halloran. I was learning every bit that I could, trying different lines and different things on how I was riding the bike, to find out what was working, so I think we were pretty fast. There were quite a few guys on a similar lap time, so I expect it to be really competitive. Again, we've done a lot of work on used tyres and managed to do fast laps on tyres much more than race distance – I think we'll be in a strong place."
The new schedule means that Bennetts BSB riders will head to the grid on the first day for the opening race of the weekend, something that the McAMS Yamaha rider is looking forward to on Saturday.
"It's nice going to Knockhill," added O'Halloran. "Especially racing on the first day – I've never had to race on the first day of an event so I think that'll be a new experience, but also I feel like we'll be ready for it. We've done a lot of laps there already which is good so it'll be interesting to see how the weekend plays out. It'll be a busy one, but I'm in good shape, the team is in good shape. If I could win races at Knockhill that'd be absolutely amazing, or podiums for me would also be equally as amazing."
Knockhill remains the only circuit on the calendar where O'Halloran has yet to celebrate a podium finish and he is determined to rectify that this weekend.
"I've never stood on the podium at Knockhill. It's the only track that we race at that I've never had a podium at," said O'Halloran. "So it's a track that I need to change that and I feel like we're in a good position to do that.
"We're going to have to get up to speed pretty much straight away and we're going to have to do our work as we haven't got that night to think about it, like we would normally have with a three day event.
"The setting that we left with at the Knockhill test is what I started with at Oulton Park, and we obviously refined the Oulton Park setting over the weekend. So we'll take that back to Knockhill and we know that the two tracks sort of relate to one another. I think that we should be in a good place from the start and there is no reason why we can't be up the front."