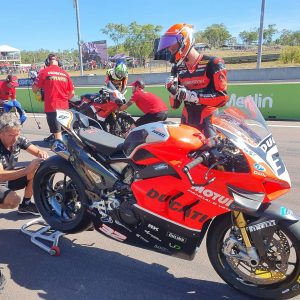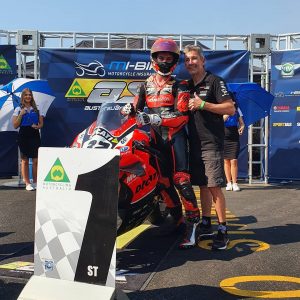 Despite red flags cancelling race two and shortening race three, at just 17-years-old, Oli Bayliss has become the youngest rider to win an Australian Superbike Championship (ASBK) race, wrapping up the round win in spectacular fashion. Hidden Valley wasn't as kind to Mike Jones who, despite showing promising pace, was not able to start any of the weekend's races after coming down late in Qualifying two and ultimately requiring surgery.
Mike Jones

Qualified: 3rd (1:05.555)
Fastest Lap: 1:05.555
Results: DNS

Championship: 7th

Oli Bayliss

Qualified: 2nd (1:05.527)
Fastest Lap: 1:05.445
Results: 4-1, 1st Overall

Championship: 5th
Team co-owner, Ben Henry: "It was a somewhat bittersweet weekend for us, that's for sure. On one hand, I'm gutted for Mike. He came into the weekend full of confidence, and he continued to progress, ultimately setting a fast lap, under the previous record despite severely damaging his foot on the previous lap which really is incredible. Missing two races in a championship as tight as the ASBK is a tough ask to come back from, but we won't be giving up that title chase. Both our Panigale V4 R superbikes performed extremely well all weekend, handling the Darwin heat with impressive pace and I'm proud to be a part of the first Superbike win for Oli. I've watched Oli grow up, 'work' in my shop, mature as a rider and I really couldn't be prouder of his efforts this weekend. He quietly told me on the way to Darwin that he thought he could win. He kept his head, gave good feedback, listened to advice from the team and from Troy specifically and he got the job done."
Mike Jones: "The weekend obviously didn't go to plan. I'm out of hospital and flew home to Brisbane with the team last night after having surgery on my finger. I don't have any specifics on the recovery yet and to be honest, with my fingers still bandaged, I don't even really know the exact state of my little finger, but I can't see why I won't be on track at Morgan Park for the next round. I had such a great start to the weekend, with a lot of confidence in myself, the bike and what we would be able to achieve this weekend, so I'm disappointed to come away from Darwin with no points. I want to give a special thanks to the medical team for the fantastic job taking care of me. And a huge congratulations to Oli, I watched race 3 from the hospital and he did an amazing job to race fast and get the job done."
Oli Bayliss: "Everything just felt really good this weekend to be honest. We tested really well, and I felt within myself that I could race at the front at Hidden Valley. The Panigale V4 R is such a fun bike to ride, and everyone in the team is working so well together to keep letting me ride it faster and faster. As soon as we got on track on Friday I knew we were in a good position and if it wasn't for running wide in race one, I think I could have been battling for a win there too. Dad gave me some advice on the start line about my race plan, I got off the line a lot better which really helped with track position and I managed my race, picked my strong points and I'm so happy to finally get a win on a superbike! A huge thank you to Benny, Mum, Dad, Byron and the whole DesmoSport Ducati team, and also a quick shout-out to Mike (Jones) and especially Troy Herfoss after a pretty big crash. I hope you both heal up fast."
Team co-owner, Troy Bayliss: "Oli did an incredible job this weekend and I couldn't be prouder. Today I think he showed everyone a little of what he's capable of on the Panigale V4 R. He rode smart, was patient, chose his opportunities and made them most of them not just in the race he won, but every time he was on track. It's been a tough few weeks for me but to see Oli take the win… It was emotional for sure. The weekend obviously wasn't so kind to Mike, he was ready this weekend to take it to the front, so to end up in hospital without even starting a race is tough, but he'll bounce back for sure."
The ASBK now heads to Morgan Park, Queensland on Aug 20-22, giving plenty of time for the team to celebrate, regroup, heal and get ready to go racing again.
2021 ASBK Calendar
Round 1: Australian All Wheels Race Fest: Phillip Island, VIC *Cancelled
Round 2: Winton Motor Raceway, Benalla, VIC Mar 12-14
Round 3: Wakefield Park Raceway, Goulburn, NSW Apr 16-18
Round 4: Hidden Valley Raceway, Darwin NT Jun 18-20
Round 5: Morgan Park Raceway, Warwick QLD Aug 20-22
Round 6: The Bend Motorsport Park, SA Sept 23-26
Round 7: Wakefield Park Raceway, Goulburn, NSW Oct 15-17
Round 8: Phillip Island Grand Prix Circuit, VIC Nov 4-7