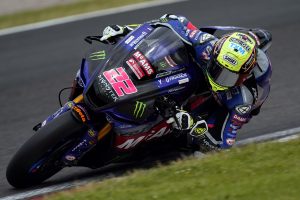 The McAMS Yamaha team are raring to go as the busiest run of Bennetts British Superbike races in history is set to kick off at Brands Hatch this weekend with unrestricted numbers of fans returning for the first time since 2019.
 
The marathon run will see six races in eight weekends starting at Brands Hatch this weekend and ending with the all-important showdown decider at Silverstone between 10-12 September – which shows just how crucial these next eight weeks will be in fighting for the 2021 British Superbike crown.
 
It's been a strong start to 2021 for the Raceways Motorcycles-run McAMS Yamaha effort, who have been on the podium in each of the six races so far this year.
Australia's Jason O'Halloran sits second in the championship standing after his tremendous treble at Oulton Park last month, followed up by a second place at Knockhill while team-mate Tarran Mackenzie scored two third places in Scotland to bolster a flurry of top six finishes and launch his championship challenge.
 
Brands Hatch has been a happy hunting ground for the team, which has won three races on the iconic Grand Prix circuit most recently with O'Halloran, who won one of the best races of the 2020 season at the Kent track last October. Following that victory up with two podium places, the "O'Show" is feeling confident of fighting at the front this weekend at a track where the fast, flowing nature of the circuit is suited to the Yamaha R1 far better than the stop-start Knockhill.
 
Mackenzie has also enjoyed success at Brands Hatch in the past, not least with two podium finishes last October. Almost the scene of his debut superbike podium in 2018, the 25-year-old will be keen to go a step or two further to build on his duo of third place finishes at Knockhill.
 
After two strong top ten finishes at Knockhill, Ian Hutchinson is looking forward to getting to a track which should play into the strengths of his Edwards 1902 Yamaha R1.
Jason O'Halloran – Championship: 2nd (105 points)
"Knockhill was a bit of an unknown for me, I'd never been on the podium there and in 2019 we had some issues so I hadn't really raced the R1 properly there before, so to come out with a podium and top six I was pretty happy. Of course, it would have been nice not to have crashed in race two but these things happen in racing. Brands is a circuit I really enjoy, I won one of the best races I've ever ridden in there last November and finished on the podium in the other two races, so we know it is a good circuit for the R1 and we have definitely improved since then. I'm going there thinking we can win but of course it will be as close and tight as ever, which will no doubt produce some incredible racing for the fans back at the track!"
Tarran Mackenzie – Championship: 4th (76 points)
"It's been a good start to the season for us at McAMS Yamaha and after two podiums at Knockhill I am really looking forward to getting to Brands Hatch. I've not been out of the top six so far this year, but I would like some more podium points! Brands is a circuit I really enjoy riding, I was on the podium there twice in October last year and we have made some improvements to the R1 since then so I'm really excited to get stuck in this weekend in front of a full crowd!"
Ian Hutchinson – Edwards 1902 Yamaha National Superstock
"We made quite big progress with the bike at Knockhill and I managed to have a decent race, so I feel quite positive heading to Brands Hatch where in theory, the track should suit the R1 a little more than Knockhill. Every time we ride the bike we are making steps forward so if we can continue with that progress, hopefully we can be fighting further towards the front." 
Steve Rodgers – Team Principal
"The next few races are going to be hugely important as the story of 2021 unfolds. It almost feels like the first two rounds have been a bit of a warm-up and now it's time to get going – six races in eight weeks means there's no room for error, while the championship perhaps can't be won in the next eight weeks it can definitely be lost! The next few circuits should be good for us, we know the bike is capable and Jason and Tarran have both shown they are too, but this is BSB and anything can happen so we'll take each day as it comes and see where we are at the end of the weekend. Ultimately the podium is our goal so both riders can keep racking up the podium points as that's what we'll need come September when the Showdown gets underway."