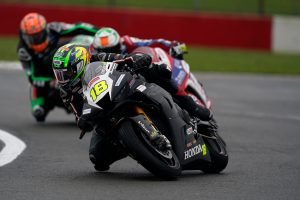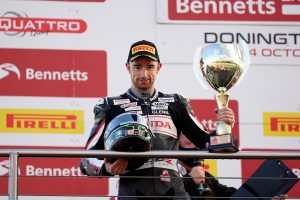 This weekend it's all to play for as Honda Racing head to Brands Hatch for the final rounds of the 2020 Bennetts British Superbike Championship, where both Glenn Irwin and Tom Neave are in contention of being crowned Superbike and Pirelli National Superstock 1000 champions.
After holding the championship lead for most of the season, a DNF last time out saw Glenn's lead diminish where he now sits 18 points behind leader Josh Brookes ahead of the weekend's final three races.
The 2020 season will conclude with Rounds 16/17/18 at the 2.4-mile Kent circuit, giving Glenn three chances to do what he can in order to lift the BSB trophy for the first time in his career, and the first time for the Honda team since 2013.
Teammate Andrew Irwin will also be looking to continue his good form, where last time out he took his second race win of the season with an impressive ride in tricky conditions.
Meanwhile Tom Neave is just 10 points behind leader Chrissy Rouse in the Superstock 1000 Championship, after taking a win and a third place at the last outing. With just one race at the weekend, Tom will be looking for the win in order to snatch the lead from his rival and claim the title.
Davey Todd is also hoping for a good final race to finish the season after a strong comeback to short circuit racing. Finishing consistently within the top-ten, Davey's best result of the year is seventh place in the highly competitive Superstock class.
It's been a successful season for Honda Racing in the debut year for the all-new CBR1000RR-R Fireblade SP with eight wins and seven podiums. The team has also been on the podium at all but one round this season across the Superbike and Superstock classes, so the team are confident heading to the Brands Hatch GP circuit.
Practice begins on Friday 16 October with qualifying and Round 16 on Saturday, ahead of Rounds 17 and 18 on Sunday.
Weekend Schedule – Rounds 16/17/18
Brands Hatch GP:
Friday 16 October:
1145 – SSTK FP1
1515 – BSB FP1
1610 – SSTK FP2
Saturday 17 October:
0940 – BSB FP2
1110 – SSTK Qualifying
1315 – BSB DATATAG Qualifying
1615 – BSB Race 1 (16 laps)
Sunday 18 October:
1245 – BSB Race 2 (20 laps)
1420 – SSTK Race 2 (14 laps)
1600 – BSB Race 3 (20 laps)
#18 Andrew Irwin
We've shown potential this year and we should have been much higher in the championship, but the inconsistency has let us down. But we go into the weekend with no pressure and nothing to lose, but I suppose a lot to gain. I'd like to thank everyone at Honda Racing for the season, all the hard work the team have put in and keeping focussed during the pandemic, we came out with a brand-new bike that's capable of winning the championship. I'm looking forward to seeing how the championship unfolds with the guys who are going for it, and hopefully it'll be a Honda coming out on top! Brands is a track I've always been good at and celebrated my first podium there a few years back. I think the new Fireblade will suit the circuit and we can go there with confidence. It's been a rollercoaster of a year, but I want to go into the off season in a good frame of mind so three good results would do that and set me up for 2021
#2 Glenn Irwin
We go into the last round with a lot of hope and the realism that we can be the champion, but I don't underestimate how difficult of a job that will be. It has been a great year for me regardless and I think we've established ourselves. We haven't just come back to the Glenn of 2018 that was fighting for podiums, I think we've shown ourselves as one of the main BSB front runners and that has taken a lot of work. Either way, I have a lot of satisfaction this season and we just go into the last round and will throw everything I have at it – one thing is for sure, that is what we'll do! We'll go, we'll get stuck in and enjoy it. I'm just really looking forward to it. I feel confident and happy with what's underneath me, but I am aware of how difficult a task it will be on one hand, but I'm also aware that we can win the championship as well. Let's go and enjoy it, get stuck in and try to complete what has been a dream season for the new Fireblade.
#68 Tom Neave
It is a shame that it's the last round because I feel I'm on a bit of a roll now and we would usually only be half way through the season at this point. I'm feeling confident going into Brands, it's a circuit we've not been to with the new Fireblade but I'm going in with an open mind. It's a track I enjoy and have won and had podiums at previously, so I know I can perform there. I'm guaranteed second in the championship so I have nothing to lose. I've accepted my current position so the only way is up, where as Chrissy [Rouse] has to maintain his lead, so for me it's game on! Regardless of what happens we have had a great season with more wins than anyone else and I can't wait to get going and see where the weekend takes us.
#74 Davey Todd
I'm really excited to get to Brands Hatch for the last round and hopefully finish the season on a good note. The last time I was there I won in 2016, so I've got good memories of the GP circuit and I really enjoy racing there. We've been learning and developing throughout the whole season, making steps forward and have just been unlucky with a few issues over the last few races, but I'm eager to show what we can do at Brands.
Team Manager Havier Beltran
I think everyone in the team should be really proud of what we've achieved this year, we came into the season with a brand-new machine and we've had one of our best seasons for a few years with the amount of wins and podiums we have recorded, and we have two riders in contention for two championships. Whatever happens at Brands Hatch, I think the team and riders should be walking away with their heads held high. Coming to the weekend chasing the title isn't a bad thing, I think the pressure will be on Josh [Brookes] and Chrissy [Rouse] far more than it will be on Glenn and Tom, so all they have to do is enjoy riding and give it their best shot.