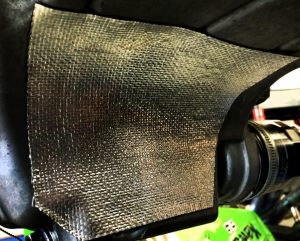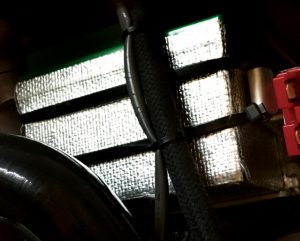 Eazi-Grip Radiant Heat Shield has been specifically designed to protect components from the damaging effects of radiant heat.
What is Heat Shield used for?
Our radiant heat shield offers a flexible, easy to apply material to help reflect heat away from electrical components and can also be used on the inside of fairings, body panels etc. to protect paint finishes from extreme heat, the bottom of fuel tanks, inside of sumps, bottom of air boxes and to prevent heat transfer to swing arms on close fitting exhausts.
As well as protection, our Heat Shield can give a performance benefit by reducing the engine temperature, therefore reducing the intake temperature.
It can also make riding your bike more comfortable by reflecting heat away from between your legs.
Our Heat Shield is used by British Superbike (BSB) teams McAMS Yamaha and FS-3 Racing, as well as World Superbike (WSBK) team Team Go Eleven.
What is Heat Shield made of?
It features a composite construction of aluminium foil, silicone adhesive, glass cloth and flame resistant polyurethane, optimising barrier performance up to 550°C, with minimal weight and material thickness.  Presented in a self-adhesive format making it simple to install.
It has a higher than average 20mu aluminium foil face making it extremely durable and resilient even after repeated manipulation during fabrication. The adhesive used to laminate the aluminium foil to the glass cloth is a special high temperature silicone adhesive, greatly reducing the chances of the foil cracking or delaminating from the glass cloth.  In addition, the base glass cloth fabric is impregnated with a black flame resistant pu coating to prevent fraying during CNC machine slitting and fabrication, ensuring a clean cut and professional finish.