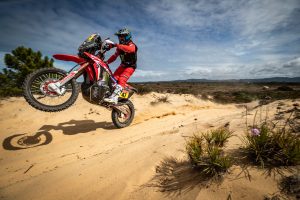 Kevin Benavides clinched his first Dakar Rally title on Friday's 12th and final stage of the event, giving Honda back-to-back wins in the motorcycle class.
Having initially held a lead of 4m12s after Thursday's penultimate test of the rally, Benavides' hopes were given a boost when his advantage over KTM rider Sam Sunderland was revised upwards to 5m07s due to a failure with the organisers' GPS equipment.
Starting the deciding Yanbu-Jeddah stage third in the running order, Benavides gained 10 minutes on Sunderland in the opening 99km as the Briton struggled opening the road.
From there, Benavides was able to manage his advantage as he fought Honda teammate Ricky Brabec for the stage win, ultimately missing out to the American by 2m17s.
But with Sunderland finishing 13 minutes off the pace, it was enough for Benavides to wrap up a first outright victory in the Dakar and a second in a row for Honda.
The 32-year-old becomes the first Argentinian rider to win in the motorcycle class of the Dakar, or indeed a title in the legendary rally-raid in any category other than quads.
Brabec surpassed Sunderland for second overall to make it a Honda one-two – the first for the Japanese manufacturer since 1987 – 4m56s behind Benavides.
Sunderland had to settle for the bottom step of the podium after finishing only 12th on the final stage, 15m57s behind Benavides.
KTM rookie Daniel Sanders held on for fourth place, while privateer Skyler Howes (KTM) won his battle against Sherco's Lorenzo Santolino to seal fifth place.
Pablo Quintanilla was the sole factory Husqvarna rider to make the finish in seventh place, but Yamaha's sole remaining works representative Adrian van Beveren wasn't so lucky – suffering engine problems just 30 minutes into the stage.
Van Beveren's demise helped works KTM man Matthias Walkner – who was ruled out of realistic contention as early as Stage 2 – finish ninth behind KTM privateer Stefan Svitko.
Argentina's Manuel Andujar sealed victory in the quads category, having taken the lead on Stage 7 following the retirement of compatriot Nicolas Cavigliasso.
Provisional final standings (Top 10):
1 Kevin Benavides
Honda 47h18m14s
2 Ricky Brabec
Honda 4m56s
3 Sam Sunderland
KTM 15m57s
4 Daniel Sanders
KTM 38m52s
5 Skyler Howes
KTM 52m33s
6 Lorenzo Santolino
Sherco 58m30s
7 Pablo Quintanilla
Husqvarna 1h16m39s
8 Stefan Svitko
KTM 1h43m07s
9 Matthias Walkner
KTM 2h32m12s
10 Martin Michek
KTM 2h42m37s