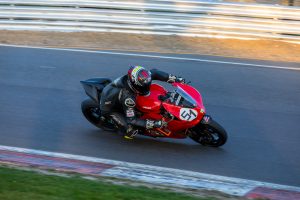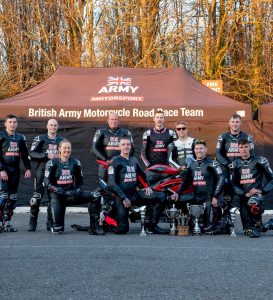 The team arrived at a sunny Brands Hatch ready to do battle with the RAF and Navy, see below how the team got on!
#78 Maj John Miller
Maj Miller started slightly off the pace compared to previous years but qualified well for the Military grid in 8th. He got a good start and had a fairly uneventful race until the last lap when an RAF rider trying to out brake him into the Druids hairpin knocked him off into the gravel trap. Not a great start to the 2022 season but good to get going.
#87 Maj Stuart Keenan
As a rookie rider, it was a weekend of firsts for Maj Keenan. First race start, first military round, and first time at Brands Hatch. Making big steps in pace and confidence, Maj Keenan managed to qualify 23rd of 27. He spent the race battling towards the back with a Navy rider, exchanging places and eventually holding out to finish in 20th of the 24 starters. Overall, a positive weekend for a rookie who's looking forward to closing the gap to the pack in round 2.
#54 Capt Lara Small
Race report from Brands Hatch! Best moment? Trying to overtake the entire military grid from the third row back, round the outside of Paddock Hill Bend after a blisteringly good start. 2nd best moment? Nailing a 51.8 second lap in the Sportsman 600 race, which Capt Small is really proud of since the last time she was at Brands was 5 ish years ago on a CB500. Capt Small even managed to beat an Elite rider and achieved 7th in class, in the fastest 600 grid in Thundersport. Capt Small managed 7th overall in the Military race, after punching her way up to third but getting picked off by some better riders, more work to do!
#62 Sgt Sam Cartwright
Qualifying began on a warm Saturday morning and Sgt Cartwright managed to qualify 22nd out of 31 riders. For race one he finished 21st out of the 31 riders. For race two he finished 18th out 29 riders on the grid. For the Inter Services race he started 14th out of 27 riders on the grid and made it down into 12th position where he kept a steady pace and stayed close to the riders in front of him for the rest of the race and kept that position till the chequered flag.
Sunday morning and the weather had changed for the worse, it was damp, foggy, and cold. Sgt Cartwright went out for the first race and was starting in 22nd position, he was making his way through other riders for most of the race and managed to get down to 12th place which put him in the top 10 of his class. For the second race, he finished 17th out of 25 riders which placed him 14th within his class. Sgt Cartwright looks forward to getting back with the team at Snetterton.
#18 Sgt Spencer Fleet
What a great start to the season! Sgt Spencer-Fleet having won the Individual Interservice championship in 2021, was presented his winners trophy Friday night.
Having not been to brands Indy for nearly a couple of years, test day was used to get the bike and rider up to speed. Having found a Suspension set up that worked, he was confident for qualifying and the race. Qualifying went well but pipped to pole by 0.2 from LCpl Heaver on his Kawasaki ZX10R. This looked to be a good race! Using GP1 class race for a bit of warm up, confidence built and PB's were smashed.
The Interservice race started well, chasing down LCpl Heaver. The first lap saw positions change at numerous places. Then Sgt Spencer-Fleet got out in front for Lap 2, getting his head down. He then led the lonely race to the end with 5.3 gap.
Sgt Spencer-Fleet looks forward now to the tough task ahead at Snetterton, where power is key.
#42 Cpl Dan Dove
So started the test day at brands on a fresh bike after Spain testing not going so well with a small crash and a gearbox issue not getting much time on the bike.
New issues occurred finding out the discs on the dry wheels were shot so had to do a swap for the wet wheel's discs missing a couple of sessions. So finally got some time on the bike, using TW suspension trying to get a base setting and get comfy on the bike which wasn't really happening. Soon finding out that his tyre pressure gauge was running 6-8psi to low and was broke. Managed to get some time on the bike Saturday with the 3 races so that was a start.
Sunday, we had some fog but I was ready to race in any condition, as I was about to go out on my first race on Sunday my throttle was sticking and turned out my throttle cable was near enough snapped probably brittle from my off in Spain so quite lucky to be spotted, after that sadly was time to pack up and head home up north. Had a great time being back in team and look forward to round 2 at Snetterton when I'll have all the niggles sorted and start finding some time and speed.
#155 Cpl Nicholls
Though ending with a slow speed low-side in race 2 it was a good start to the season. Qualifying was a write off with 3 crashes and a red flag meant Cpl Nicholls had no time to set a decent lap. Race one Cpl Nicholls pushed hard to gain place finally finishing in P3. Race 2 saw Cpl Nicholls crash out of P1 after leading for 10 laps. Lack of spares and budget meant Cpl Nicholls was not able to compete any further in the race weekend.
#133 LCpl Heaver
Saturday morning LCpl Heaver went out and put in a strong qualifying session on a fresh set of tyres, grabbing another PB and getting the sub 50 lap he wanted from the weekend. Qualifying 2nd in the GP1 Sportsman Race and Pole Position in the British Military Inter-services Race.
Race 1 (GP1 Sportsman) – Not a great start and getting caught up in heavy traffic lap 1 saw LCpl Heaver drop to 5th in class. After some battling and settling into the 20-lap race he pulled back and finished 4th in class.
Race 2 (British Military Inter-services) – A much better start and got the hole-shot. Holding onto first place for the first couple of laps but a slide from the rear at Graham Hill saw him lose the edge which allowed Sgt S-F to slip past, holding onto him for the next couple of laps but slowly he pulled away. Knowing their PB's were identical entering this race LCpl Heaver knew he couldn't reel him back in and then focused on just finishing the race and bringing home 2nd place safely.
#93 LCpl Liam Palmer
This was a first time visit to Brands Hatch for LCpl Palmer. He wanted to make a good start to the season, starting out he found it difficult to find a set up that work for him but kept pushing until it all started to come together in the military race setting a new pb and finishing top in the twins class on the grid gaining some good points for the team going forward. LCpl Palmers individual races started to take shape towards the end of the weekend, improving every time he raced, the competition is extremely tight this year and the fight for podium spots came down to less than a second every time. LCpl Palmer managed to finish all 4 of his individual races with a good handful of points starting him 5th in championship. He looks forward to Snetterton a track he knows and has previously done very well at.