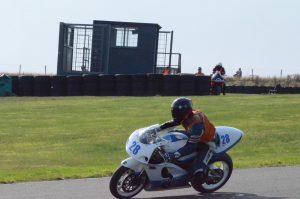 Petty Officer Tom Davies of the Royal Navy Royal Marine Road Race Team was at Anglesey on the Bank Holiday Weekend. This is his race report.
Anglesey was another new circuit for me to learn and only my third race weekend since completing my ACU race licence in April this year.
The weekend began with test day on Saturday, after receiving some helpful guidance on the morning track walk I set off on some sighting laps, Trac Mon Anglesey was quickly established as my favourite track I've ridden thus far, my 1999 GSXR 750 although over 20 years old was handling great after a suspension set up at the previous round by TW suspension. Test day went well and I was pleased with how the bike was performing and how my riding steadily progressed throughout the day.
Sunday began with slightly cooler conditions and qualifying, I was having issues with my visor steaming up throughout qualifying (must remember anti fog insert next time) and my best lap time was a 1.19 which placed me near the back of the grid in 27th place, however I was still looking forward to the first race of the weekend.
The first race I managed a good start making up several places, however, after a bad crash by another rider on the first lap on the corner 'peel'  red flags were waved and a re-start was called. The re-start also went well and I gained some places on the start line. I then had a good battle over several laps with an Aprilia eventually managing to overtake and chase the group in front. I eventually finished in 21st place (7th in class) with a best lap time of 1.16.602 and a total finishing time of 13.10, a significant improvement over my qualifying time.
The remaining races followed suit with some good battles and improving lap times, my best result of the weekend was 17th place (6th in class) with a total time of 12.58 and a best lap time of 1.16.383. Although I'm not quite near a podium , for my third race meeting and 5th time on track I was pleased with my progress on the bike and had a great weekend racing.  I look forward to Oulton Park in a few weeks time and the inter-services race.
Posted on Monday, September 6th, 2021 in News