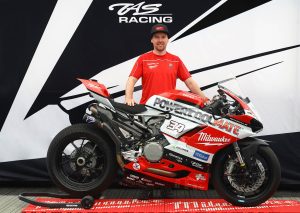 Alastair Seeley, the most successful rider at the fonaCAB and Nicholl Oils North West 200, has added a new machine to his arsenal for this year's race week on May 7-13.
The 27 times race winner will line up on a V2 Ducati in the Strain Engineering and Tides Restaurant Supersport races after a collaboration between Moto Rapido – who run Ducati machinery in the British Superbike and Supersport championships – and Philip and Hector Neill's TAS Racing team. The Italian machine will appear in Powertoolmate livery with Milwaukee support.
The 955cc Italian machine joins the Synetiq Superstock-spec and Milwaukee Superbike M1000RRs in Seeley's garage at the north coast event.
"Ian Hutchinson was due to ride the Ducati this year but after he suffered some health issues it made sense for me to ride it." Seeley explained.
"I haven't ridden the bike yet but hopefully it will put a smile on my face when I do. The Ducati has been impressive in the British and World Supersport series this year and a Ducati also won at Daytona."
The 43 year old, who raced the PBM V4RR superbike Ducati to a fifth place finish in the 2019 NW200 Anchor Bar Superbike race, is due to throw his leg over the Italian middleweight machine for the first time in a two day test at Kirkistown next week.
"It will be a challenge as the team and myself try to get to grips with the Ducati but I am looking forward to it." Seeley said.
"The last Ducati I tried at the North West didn't work out too well so it would be nice if it did work this time."
The Supersport class has been a successful stomping ground for the diminutive Carrickfergus racer who has enjoyed 13 victories in the class at the north coast event, including a win on wet roads in the opening 600cc encounter last year. He went on to claim two more victories in the Turkington and CP Hire Superstock races at the meeting.
Posted on Wednesday, May 3rd, 2023 in News