You may already use your bike for commuting, are going to buy one for getting to work, or looking to use your current weekend ride-out bike as a daily. There are many benefits to a motorcycle for getting to and from work including saving time, and in a lot of cases, money too. Here are our top tips for tackling the commute.
Be protected
While a helmet is the only legal piece of gear you need in the eyes of the law, we strongly recommend you wear full gear, including gloves, boots and motorcycle leathers or bike jeans and jacket too. Buy the best you can afford, especially when it comes to your helmet, and make sure all your kit is properly safety certified.
Consider your style of helmet
While a full face helmet is a must for any commuter, many now have the option of a quick release button so you can flip up the front to reveal your face without taking it off, which is useful when filling up. Another useful feature is an inbuilt dark pop down visor for sunny days, or Winter when the sun is low in the sky. It can be easily switched up and down to protect your vision in changeable weather conditions.
It's very likely you will get wet
Invest in a decent set of fast drying waterproofs that can be easily put on/removed and can be folded down easily for storage.
Stand out and be seen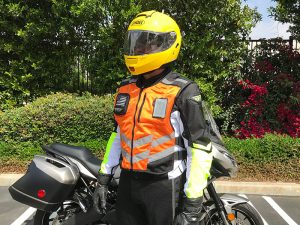 OK so wearing a high vis vest isn't seen as cool, but on a drizzly dark Winter morning, it's the difference between being visible and not. A lot of motorcycle clothing now has reflective patches and high vis flashes, but you may need more to really stand out in bad weather. Having a bright helmet also helps, with white or yellow being the best choices.
You'll need decent luggage
It's likely you will need to take more stuff with you on your bike to work than on your regular weekend blast, things like lunch, your shoes, a laptop, change of clothes, tools and locks. Scooters usually have good under-seat storage, while regular motorcycles may need a top box or panniers. Alternatively a good quality waterproof rucksack is an option if you don't want fixed luggage.
Secure your bike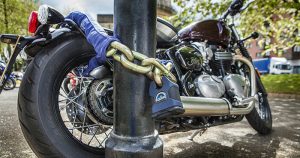 If your work doesn't have a secure car park, you're going to need to keep your bike safe while you are away for hours. A heavy duty chain, along with a disc lock or wheel lock will do the trick. While they are bulky things to carry with you, they will make sure you have a ride home at the end of the day. Popping a cover on your motorbike could help by making your bike less identifiable to thieves, as well as keeping it dry.
Have a navigation device
You do the same route every day, why would you need sat nav? Well what if your usual route has an unforeseen road closure, or develops a traffic jam? Having sat nav on your phone or on your bike could mean you are back home at a reasonable time, or not late for work. Make sure you use your sat nav legally if on your phone, there are many mounting options available to fix your phone to your bike.
Have a plan B
You get to work and your car park is full. It may sound obvious, but research other parking areas around your work and have an alternative, so you're not panicking about being late for work.
Prepare for traffic
A lot of people advise to ride like everyone is out to kill you. It's good advice. To a lot of other road users, bikers are easily missed as most are looking for larger vehicle shapes when emerging from junctions or changing lanes, so riding defensively and cautiously is recommended, especially at commuting time when a lot of people are concerned with getting to work on time.
Look after your motorcycle
It sounds obvious, but keep an eye on your brakes, chain, controls, tyres and fluids. It's recommended to give your bike at least a visual check before a ride. YouTube is a great resource for maintenance tutorials if anything basic needs fixing (or more complicated depending on your capabilities), and there are plenty of workshops and garages for anything that you're unsure of with helpful mechanics.