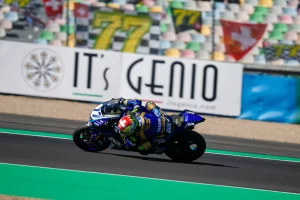 This weekend the eighth round of the FIM Supersport World Championship will take place at Circuit de Barcelona-Catalunya. It will be a special and important weekend for Ten Kate Racing with not only the action on track, but also the presentation of the ambitious Motonext project that has been worked on for a long time with various partners.
First and foremost, the focus is on on-track performance and after a successful weekend in France, it will again be important for reigning World Supersport champion Dominique Aegerter to further extend his lead in the championship this weekend. The Swiss rider finished third in Race 1 and took victory in Race 2 which means he now holds a 19-point lead over his nearest rival.
On Leonardo Taccini's side, the aim will be to continue the upward trend of recent weeks. In Race 1 at Magny-Cours, the Italian rode his best race of the season so far and scored points once again, in Race 2 he could not show his potential due to mechanical problems. Together with Ten Kate Racing, Taccini's will also be working hard again to perform in the best possible way.
Dominique Aegerter: "I am really looking forward to this weekend in Barcelona. We're coming from a successful weekend in Magny-Cours after which I had a weekend off. That was quite nice after a very busy period. I have been training hard to prepare myself in the best possible way for these remaining races. Last year I missed the Catalunya Round due to MotoE commitments but this year we tested there ahead of the season and I was quite fast. I know this track already for a long time as I've ridden here since my 125cc days and I enjoy riding here. I spend quite of lot of time in the area around the circuit to train there during the winter. I am looking forward to the weekend and hopefully see a lot of fans and friends there too. Our goal is the same as always, to extend the lead in the championship and fight for the podium positions."
Leonardo Taccini: "I think the main goal for this weekend is to continue in the way we performed in Magny-Cours. We showed that we can be fast but unfortunately we could not show our true potential, as we were a bit unlucky. Of course that's part of racing and still we made quite a big step in the last round. This weekend I want to prove that we can be up there and show once again that we made progression. Hopefully we will have a bit more luck on our side and then we will see what happens."
Kervin Bos – Ten Kate Racing team manager: ""This weekend it is finally time for Motonext, the world premiere of a project we have been working on behind the scenes for a year and a half. Step by step, some parts have leaked out but we are ready to bring a shock to motorsport, which is exactly what Motonext will do. The website (Motonext.nl) is ready and the presentation is scheduled for Friday evening 19:30, it can also be followed via a livestream. During the races on Saturday and Sunday, Dominique and Leonardo will ride a Motonext component for the first time. In short: there is a very special weekend ahead. Many sponsors, relations and interested parties will also be present and we are looking forward to showing all the hard work of recent times.
Of course, we will also continue with the World Supersport championship and we were able to see at Magny-Cours that Dominique is in excellent form. In Barcelona he is tremendously fast we are looking forward to continuing in that way. Leonardo made considerable progress at Magny-Cours but unfortunately mechanical issues prevented him from showing that in Race 2. We hope to pick up this positive trend again and make it a great weekend in Barcelona."