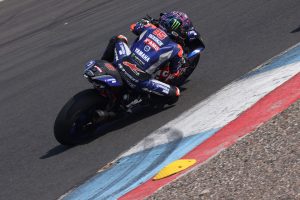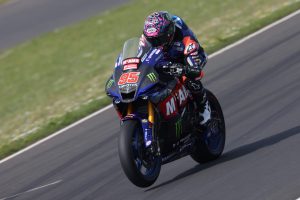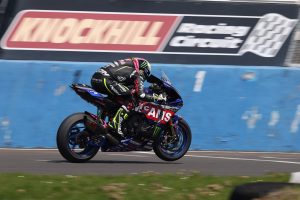 Eazi-Grip supported McAMS Yamaha team has successfully concluded a positive two-day test at Knockhill as preparations for the 2021 Bennetts British Superbike continue.
 
The sun was shining on the Scottish circuit, which the series hasn't visited since 2019 as a result of the coronavirus pandemic, for the two-day test, which included one day's worth of open pit-lane running before a further three 45-minute sessions yesterday.
 
It was valuable track time in optimal conditions for the team with both the Silverstone and particularly Snetterton tests hampered by poor weather, enabling them to work through the remainder of their 'winter' test programme leaving just a few small items on the 'to do' list for the final test at Donington Park.  
 
The test allowed the team to evaluate various set-up changes, new parts and test both options of Pirelli tyre now available as they set about their quest to fight for the 2021 British Championship crown.
 
The extra time on track also allowed the team to run the latest spec R1 at Knockhill as they prepare to race at the Scottish track for the first time in two years as the championship heads north for the second round in July.
 
Edwards 1902 Yamaha rider Ian Hutchinson was also on track for the two day test as he continues to familiarise himself with the R1 in Superstock trim.
 
The team return to action in less than a week as the final pre-season test of the delayed 2021 season gets underway at Donington Park, before the season finally kicks off at Oulton Park later this month.
Jason O'Halloran
"It's been a really productive test with great weather so we've managed to get a load of laps in across the two days. The first day being open pit lane meant we got through most of what we needed to and we found ourselves in a really good place with the R1. This hasn't always been the strongest track for me, but we've made quite a few steps with the bike since we last rode here and I was able to enjoy myself. We tried something quite different in the final session and it was quite surprising, which gives us a few things to think about ahead of Donington as we might have something else in the mix that we can start to work with. All in all, we had a really good test, I felt great on the bike and I'm looking forward to one more test before the start of the year."
Tarran Mackenzie
"It's been a really enjoyable two days with the sun out permanently! It's gone smoothly and to plan for me this time with no getting stuck in traffic jams or crashing in pit lane, so I've been able to have an awesome time riding my bike around this track. I've ridden here a lot over the years so it's nice to come back and to have an open pit lane day was great for us, we came here with a new setting and it was a case of fine-tuning that over the first day and then back-to-backing a few things on day two. I'm leaving here with a smile on my face with one more test next week and then it's finally round one at the end of the month. I can't wait to get going."
Steve Rodgers
Team Principal
"After the weather at Silverstone was a little bit iffy and then Snetterton was a complete wash-out, I was beginning to think testing wouldn't be all too productive this year but two days on track at Knockhill in the sunshine have really made up for that!
"We already knew we'd made a good step with the bike from the first two tests so it was great to be able to bring it to a very different, unique circuit like Knockhill and see how things work here. We know Taz enjoys it up here and fortunately everything went to plan on his side this time, so he was able to get lots of laps in and understand where we're at with the bike now, which is in a really good place.
"Jason has really put in the miles this pre-season and tested a lot of stuff, most of which has seen a positive step forward which is exactly what we need as we look to go that one step further in 2020. We've got a few final bits to tick off at Donington next week and then it's time to go racing!"