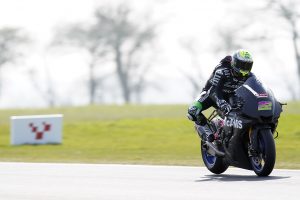 Jason O'Halloran led the way as testing for the 2022 Bennetts British Superbike Championship got underway. The Australian lapped 0.5 seconds under the lap record to top the opening Snetterton test after three days on track. New to the team for 2022, Tim Neave led the way in the Superstock class on the Edwards 1902 R1.
Hungrier than ever before after narrowly missing out on the title in 2021 to team-mate Mackenzie, O'Halloran entered the opening test with a clear plan for the three-days with new crew chief Les Pearson. The #22 side of the garage spent the entire test flat out, trying different settings as they evaluated the 2022 R1.
Ending two of the three days on top, O'Halloran's time of 1'46.575 in the final session saw him 0.072 sec ahead of former World Champion Tom Sykes.
Having broken his ankle and dislocated his shoulder in January, reigning champion Tarran Mackenzie was apprehensive ahead of the opening test. Not certain he'd ride until a little over a week ago, he rolled out of pit lane donning the #1 on Friday morning. Under the instruction to take it gently and ease himself back in, Mackenzie focused on building his bike strength up but soon felt able to improve the bike and his lap time. While his ankle was fine, his shoulder did cause him some discomfort but in spite of this, he ended the test seventh fastest just over half a second off O'Halloran's time.
It was a strong start for the Raceways Motorcycles-run team in the Superstock class too with new-signing Tim Neave leading the way on his Edwards 1902 R1. The Lincolnshireman's time of 1'49.228 saw him 0.32 sec ahead of Alex Olsen in second.
Bennetts British Superbike Championship, R&G Official Test, Snetterton, combined session result:
1.     Jason O'Halloran (McAMS Yamaha) 1m:46.571s
2.     Tom Sykes (MCE Ducati) +0.072s
3.     Bradley Ray (Rich Energy OMG Racing Yamaha) +0.098s
4.     Josh Brookes (MCE Ducati) +0.115s
5.     Rory Skinner (FS-3 Racing Kawasaki) +0.164s
6.     Danny Buchan (SYNETIQ BMW) +0.540s
7.     Tarran Mackenzie (McAMS Yamaha) +0.585s
8.     Peter Hickman (FHO Racing BMW) +0.743s
9.     Danny Kent (Buildbase Suzuki) +0.746s
10.  Tommy Bridewell (Oxford Products Racing Ducati) +0.821s
Jason O'Halloran
Pos: 1st       Time:  1'46.571 
"First test of the year done and it's been a really good few days for us, the weather has been perfect so we've had loads of track time. It's good to be back with the team, we've done a lot of work through this test. I've tried so many different versions of the bike here, at least one maybe two per session which is perfect for information and data. It's really encouraging to have been able to go fast on pretty much all of the settings we've ridden and also often when you make quite big changes it takes a bit of time to get used to them and find speed, but that wasn't the case here. To go fast at the end is good, I made quite a big mistake on the fast lap too, but more importantly testing is to gain information and feeling and I am very happy with what we have achieved. The whole team have done a great job and I'm looking forward to the next test."
Tarran Mackenzie
Pos: 7th    Time: 1'47.156     
"Overall I'm really happy, having had two months of pretty much nothing but recovery and little training I didn't know how I'd feel on the bike. I've surprised myself a little bit as I didn't feel too bad with my shoulder or fitness wise either. Over the last two days I have got more confident and comfortable with the bike, which was pretty much the same as it was at Snetterton last year, so it was just about doing laps and getting the feeling back. In that last run we made a little change to the bike which helped a lot and I gained some confidence, it was only seven laps but it was the longest run I'd done over the three days so I'm happy with that. It's put us in a good direction with myself and the bike moving forward."
Tim Neave
Edwards 1902 Superstock Team
Pos:  1st      Time: 1'49.228
"What a start to the year. I'm feeling mega on the R1, every session we have been out the feeling has improved and we've gone faster. I'm really happy to have ended up fastest as we had a few issues at the start of the test so lost a bit of track time. 1'49.228 is quicker than I've ever gone around here by some way and I know there are more steps we can take with the package so I am really looking forward to the remaining tests and getting the season started at Silverstone."
Steve Rodgers
Team Principal
"I am looking forward to getting to Snetterton this weekend and getting our 2022 season underway. Last year's Snetterton test was a complete wash-out so it's nice to see the forecast looks to be on our side! After a bit of a scare in January, it's great that Tarran is fit to ride this weekend but for him it will very much be about getting himself back up to speed and comfortable – there are no prizes for testing and we've still got three weeks until the first round. Jason is fired up and ready to go, the package is very similar to last year but with a few tweaks as we look to progress – the test for him will be about getting his eye back in and then evaluating the changes."