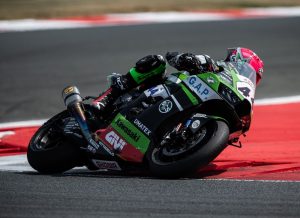 This weekend, the Nevers Magny Cours circuit in France will host the eighth WorldSBK round and the seventh WorldSSP round. For Kawasaki Puccetti Racing rider Lucas Mahias, competing in Superbike, this is his home round. The French rider recently injured his right wrist in a crash at Assen. He returned to the track for the recent Navarra round in Spain, which ran two weeks ago, but unfortunately his performance was conditioned by his painful wrist. His fitness levels have now improved and Mahias hopes to be 100% in order to be able to give it his all in front of his home crowd. At Navarra Lucas scored an exceptional sixth-place finish in Superpole, but then struggled during the races due to his physical condition. In race 1, he suffered a crash before closing fifteenth and fourteenth respectively in the Superpole race and race 2.
For the two WorldSSP riders Can Oncu and Philipp Oettl, the Spanish round was not at all easy. The particular track layout caused problems for the Kawasaki Puccetti Racing riders' bikes, the pair now confident that can be back up front at Magny Cours. Oettl seeks his first win of the season, while Oncu is looking for his first podium in this category.
The Nevers Magny Cours circuit is located in France in the Nievre department, in the Bourgogne region. It was built in 1960 but only started to take on international importance in the 80s. Over the years, the track has undergone few changes, made with the aim of creating more opportunities to pass. Some of the turns take the names of other tracks (Estoril, Adelaide, Imola, Nurburgring) in that they reproduce corners that feature at those tracks. The track measures 4411 metres and has 17 turns, of which nine are right-handers and eight left. This is the twentieth time that the Magny Cours circuit is hosting the production-derived bikes, having first staged the event in 1991 and then uninterruptedly from 2003 to 2021.
Lucas Mahias
"This is my home track and so I know it very well. I really want to do well in front of my supporters and will do all I can to score good results. At Navarra, I thought I'd put my Assen injury behind me, but instead I experienced a lot of pain, which conditioned both the practices and races. Over these last two weeks, I've trained hard and my physical condition has improved, so I hope to be in good shape in order to exploit my Ninja's full potential".
Can Oncu
"If we can be fast in qualifying at Magny Cours then I think we can be very competitive in the races. We'll see, but I think that the podium is within reach at this track. Last year, I came close to the podium and so I think the track suits me well. The bike set-up is very good now and we're ready. We'll do our best and then see what happens".
Philipp Oettl
"I've never raced at Magny Cours in the dry, but at least I have good experience in the wet. Our aim is still the podium. There aren't many first-gear turns at the French track and so we'll try to be competitive right from Friday, as we were at Assen or Most for example. Our bikes are production-derived and so they suit certain tracks but not others. And the same applies to Superbike. We're going to Magny Cours with the right mentality to do well anyway".