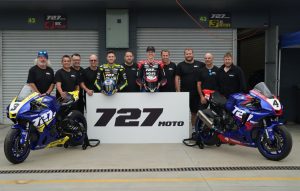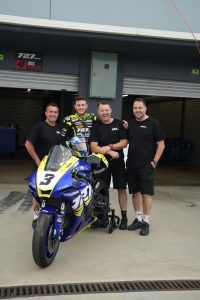 We are proud to announce we will be supporting 727 Moto Racing. Here is their press release regarding the launch…
Today we are excited to launch 727 Moto Racing. The team owned by Travis Schmitz was previously in operation under the Metcher Motorsport banner fielding a bike for Jed Metcher since 2018. Schmitz has taken the bold step like no other to invest in the team and the championship. The team rebranded as 727 Moto Racing fields two riders aboard Yamaha R1 machines with support from YRD.
727 Moto Racing is excited to continue its relationship with Jed Metcher #3, who was the 2011 European Supersport Champion. Jed brings to the team race-winning international experience, combined with the new infrastructure in place by 727 Moto Racing. We will see him return to his previous best and fighting for podiums and the championship this season.
The expanded operation has allowed 727 Moto Racing to invest youth, the future of road racing in this country. With an eye on developing homegrown talent, 2021 Australian Supersport Champion Broc Pearson #4 has signed with the team. His performances in 2021 were standout aboard a privateer machine, and has earned his opportunity to join the Superbike Championship. It will be exciting in 2022 to follow his journey and see him mix it with the stalwarts of the Australian scene.
727 Moto Racing arguably boasts the strongest technical team on the Australian Superbike grid, with a wealth of knowledge that spreads Moto GP, World Superbikes and ASBK. Joining the team is Paul Free as Team Principal and Jed Metcher's crew chief. Paul, a former racer and former owner of the Honda road race team in Australia, boasts a lifetime of knowledge. He begins a new journey with 727 Moto Racing and developing Yamaha R1s.
Brent Stephens also joins the team as Broc Pearson's crew chief. Brent brings a wealth of knowledge and technical feedback to the team after being lead mechanic to Valentino Rossi for 16 years. The new crew chief role is an exciting proposition for Brent, and his experience will sure speed up Broc's learning curve aboard the Yamaha R1 in 2022.
Stewart Winton completes the powerhouse technical line-up. Winton, former championship-winning crew chief in BSB for Josh Brooks, now works for YRD and provides technical support with the change over to MoTeC from the control Yamaha ECU.
With the 2022 season being contested over eight rounds across six states, the 727 Moto Racing Team is set to shake up the field and hopefully break the Ducati stranglehold over the championship in the last three years