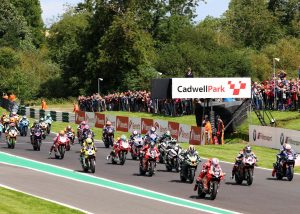 The 2021 British Superbike Championship provisional calendar has been announced following approval by its governing body, the MCRCB.
When does British Superbikes start in 2021?
The 2021 calendar will follow a new format, with a schedule of UK tests ahead of a later start to the season, which launches at Oulton Park on the second Bank Holiday weekend in May (29/30/31) 2021, for the first time in championship history.
BSB Dates 2021
2021 British Superbike Championship Calendar
Round 1: May 29 – 31 Oulton Park
Round 2: June 4 – 6 Thruxton
Round 3: June 18 – 20 Snetterton 300
Round 4: July 9 – 11 Knockhill
Round 5: July 23 – 25 Brands Hatch GP
Round 6: August 6 – 8 Donington Park National
Round 7: August 20 – 22 Cadwell Park
Round 8: September 10 – 12 Silverstone National
Round 9: September 17 -19 Oulton Park
Round 10: October 1 – 3 Donington Park GP
Round 11: October 15 – 17 Brands Hatch GP
BSB Test Days 2021
Donington Park April 13
Silverstone April 28/29
Snetterton May 4/5/6
Oulton Park May 19
Are spectators allowed at BSB in 2021?
Tickets are on sale for all 2021 BSB Race Events with the full anticipation of spectator attendance.
How many British Superbike races are there in 2021?
The main change to the 2021 Bennetts British Superbike season is the triple-header format across each of the 11 rounds, so 3 x 11 = 33 races. That's more races in one season than ever before in its 25-year history.
The action will take places around the UK at nine circuits. We visit both Oulton Park and Brands Hatch (GP layout) twice, and while there are two trips to Donington Park, each of the two rounds held at the Leicestershire circuit will take place on alternative layouts; National and GP.
Also, having not made it onto the condensed 2020 calendar, we also return to Cadwell Park, Knockhill and Thruxton.
What is the BSB weekend format?
Ten of the eleven rounds take place over a traditional Friday, Saturday, Sunday weekend. The first round is currently scheduled for Oulton Park on 29th – 31st May which is a Bank Holiday weekend and therefore the action shifts back a day and takes place on Saturday, Sunday and Monday.
For each round in 2021, we welcome a slightly amended format, with the opening day hosting two free practice sessions for the Superbike class, where the fastest 12 riders overall will be seeded directly to the Day 2 Qualifying 2 (Q2) session.
Day 2 begins with a third, shorter Superbike free practice session in the morning, followed by Qualifying 1 (Q1), where the fastest three riders will progress to join the 12 seeded riders from Day 1 as they compete for pole position for the opening Bennetts BSB race, also known as the Sprint Race, and that takes place on the afternoon of Day 2.
The third and final day of competition will feature a morning warm up and the second and third Superbike races of the weekend, both of which are slightly longer.
Will there be a BSB Showdown this year?
Yes. The established Showdown format, first introduced in 2010, returns after a COVID-hit hiatus in 2020, but with some changes for 2021.
The Main Season will now consist of 8 rounds containing 24 races with championship points being awarded to the first 15 finishers as per usual: 25-20-16-13-11-10-9-8-7-6-5-4-3-2-1.
Then the top eight riders in the championship standings will graduate as Title Fighters and be elevated to 1000 points together with any Podium Points accrued in the Main Season.
Podium Points will be awarded for each main season race as follows:
1st – 5 points
2nd – 3 points
3rd – 1 point
For the remaining 3 rounds (9 races), points will continue to awarded to the first 15 finishers using the standard format
Additionally, The BSB Riders Cup will continue to be awarded to the first rider outside of the Title Fighters in the final standings, i.e. the rider who finishes 9th in the championship.
BSB Support Races 2021
BRITISH SUPERSPORT/GP2 DATES
29-31 MAY OULTON PARK 2 RACES
4-6 JUNE THRUXTON 2 RACES
18-20 JUNE SNETTERTON 300 2 RACES
9-11 JULY KNOCKHILL 2 RACES
23-25 JULY BRANDS HATCH GP 2 RACES
6-8 AUGUST DONINGTON PARK NATIONAL 2 RACES
20-22 AUGUST CADWELL PARK 2 RACES
10-12 SEPT SILVERSTONE NATIONAL 2 RACES
17-19 SEPT OULTON PARK 2 RACES
1-3 OCTOBER DONINGTON PARK GP 2 RACES
15-17 OCTOBER BRANDS HATCH GP 2 RACES
BRITISH TALENT CUP DATES
29-31 MAY OULTON PARK 2 RACES
4-6 JUNE THRUXTON 2 RACES
18-20 JUNE SNETTERTON 300 2 RACES
9-11 JULY KNOCKHILL 2 RACES
23-25 JULY BRANDS HATCH GP 2 RACES
6-8 AUGUST DONINGTON PARK NATIONAL 2 RACES
27-29 AUGUST SILVERSTONE GP (MotoGP) 2 RACES
10-12 SEPT SILVERSTONE NATIONAL 2 RACES
1-3 OCTOBER DONINGTON PARK GP 2 RACES
SUPERSTOCK 1000 CALENDAR
29-31 MAY OULTON PARK 1 RACE
4-6 JUNE THRUXTON 2 RACES
18-20 JUNE SNETTERTON 300 1 RACE
9-11 JULY KNOCKHILL 2 RACES
23-25 JULY BRANDS HATCH GP 2 RACES
6-8 AUGUST DONINGTON PARK NATIONAL 2 RACES
20-22 AUGUST CADWELL PARK 1 RACE
10-12 SEPT SILVERSTONE NATIONAL 2 RACES
17-19 SEPT OULTON PARK 2 RACES
1-3 OCTOBER DONINGTON PARK GP 2 RACES
15-17 OCTOBER BRANDS HATCH GP 1 RACE
SUPERSTOCK 600 CALENDAR
29-31 MAY OULTON PARK 1 RACE
4-6 JUNE THRUXTON 1 RACE
18-20 JUNE SNETTERTON 300 1 RACE
2-4 JULY DONINGTON PARK GP (WSBK) 2 RACES
9-11 JULY KNOCKHILL 2 RACES
23-25 JULY BRANDS HATCH GP 1 RACE
6-8 AUGUST DONINGTON PARK NATIONAL 1 RACE
20-22 AUGUST CADWELL PARK 1 RACE
10-12 SEPT SILVERSTONE NATIONAL 1 RACE
17-19 SEPT OULTON PARK 2 RACES
1-3 OCTOBER DONINGTON PARK GP 1 RACE
15-17 OCTOBER BRANDS HATCH GP 2 RACES
JUNIOR SUPERSPORT DATES
4-6 JUNE THRUXTON 2 RACES
18-20 JUNE SNETTERTON 300 2 RACES
2-4 JULY DONINGTON PARK GP (WSBK) 2 RACES
9-11 JULY KNOCKHILL 2 RACES
6-8 AUGUST DONINGTON PARK NATIONAL 2 RACES
10-12 SEPT SILVERSTONE NATIONAL 2 RACES
17-19 SEPT OULTON PARK 2 RACES
1-3 OCTOBER DONINGTON PARK GP 2 RACES
15-17 OCTOBER BRANDS HATCH GP 2 RACES
DUCATI CUP CALENDAR
29-31 MAY OULTON PARK 2 RACES
18-20 JUNE SNETTERTON 300 2 RACES
2-4 JULY DONINGTON PARK GP (WSBK) 2 RACES
23-25 JULY BRANDS HATCH GP 2 RACES
6-8 AUGUST DONINGTON PARK NATIONAL 2 RACES
20-22 AUGUST CADWELL PARK 2 RACES
10-12 SEPT SILVERSTONE NATIONAL 2 RACES
15-17 OCTOBER BRANDS HATCH GP 2 RACES
BRITISH SIDECAR CALENDAR
29-31 MAY OULTON PARK 1 RACE
4-6 JUNE THRUXTON 2 RACES
18-20 JUNE SNETTERTON 300 2 RACES
9-11 JULY KNOCKHILL 2 RACES
23-25 JULY BRANDS HATCH GP 2 RACES
6-8 AUGUST CADWELL PARK (ISR) 2 RACES
20-22 AUGUST CADWELL PARK 2 RACES
1-3 OCTOBER DONINGTON PARK GP 2 RACES
15-17 OCTOBER BRANDS HATCH GP 2 RACES